Be amazed with the state offer beautiful natural scenes with traditional villages and waterway surrounded by spectacular lime stone mountains. Learn and discover the local daily life with their specific sarongs, traditional food, language and music instruments. Visit a tribe with its separate language and traditions, whose origins are still very much unknown to scientists until this day.
6 Days
Available on request
yangon international airport
Highlights
What makes this tour special
Explore the mysterious caves in Hpa-an such as Kyauk Kalat and Sadan Cave
Grab the opportunity to explore the magnificent countryside with limestone caves, soaring peaks and the authentic life of local people
Discover Mawlamyine with its colonial buildings of Victoria period architecture churches ,mosques and of course all Kipling's splendid old pagodas and overlooking the mighty Thanlwin River's scenic estuary
Learn the religion and  belief at esxcursion to the magnificent Golden Rock Pagoda
Day 1: Yangon – Mawlamyine by train (-)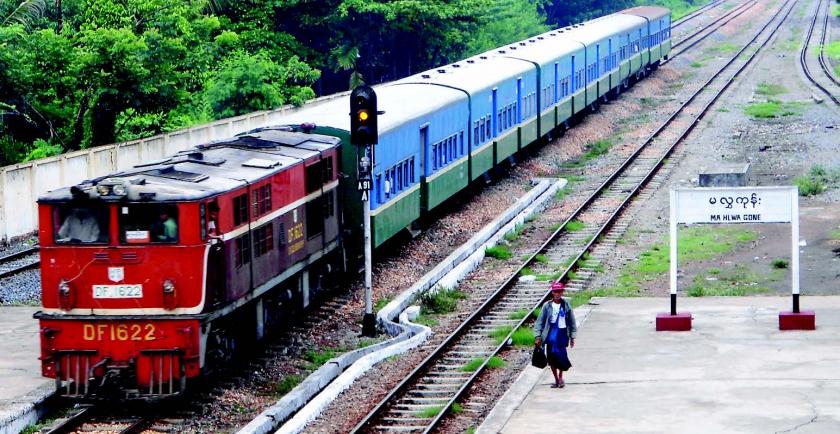 We pick you up at your hotel in Yangon around 06:00 AM for transfer to the train station – we have reserved upper class seats for you at the train leaving at 07:00. Your journey starts over the track that also is used for Yangon's famous circular train and slowly you will see the scenery changing from the downtown Yangon to scenery of paddy fields. Travelling by train through Mon State towards Mawlamyine we pass the area which supposed to be the seat of the last capital of the Mon kingdom: the city called Suvannabhumi. Burmese archaeologists have recently started the search again for the exact location of this ancient city. We also pass the ancient city Thaton which is famous for its durian and betel nut. Just before reaching Mawlamyine the train will cross a long bridge over the Thanlwin River. Expected arrival time is around 17:30. We suggest you to bring water, snacks and a good book on the train. Pictures of your home country are also always a good ice-breaker to meet other passengers on the train. On arrival at Mawlamyine train station a tuk-tuk will be ready and hold a signboard to bring you to the hotel.
Overnight at Cinderella Hotel – Superior room
Day 2: Mawlamyine – half day excursion with guide & tuk-tuk (B, L)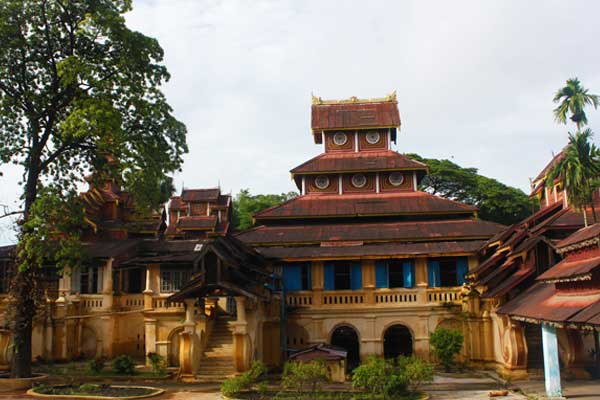 Breakfast at the hotel and visit the Seindon Mibaya Monastery. The last king of Myanmar, at the palace in Mandalay, came to power by killing many of the rival heirs to the throne at the end of the 19th century. Queen Seindon escaped and moved to what was called Moulmein in that period and became a Buddhist nun till her death (her tomb is in the compound in one of the nunneries). She built the Seindon Mibaya Monastery in Mawlamyine which is very fine example of architecture in the original Mandalay palace and has magnificent woodcarvings and other decorations. It's a monastery so beautiful that one could actually call it a museum. Continue to the Ni Paya to have a view over the city and walk around the area with impressive buildings from the colonial times when writers like Orwell and Kipling where living in this city and visit the first Baptist church. We visit the Mon Museum which has some interesting displays to show the rich Mon culture and go to a local house where a home cooked lunch of Mon specialities is served. Afternoon free at leisure.
Overnight at Cinderella Hotel – Superior room
Day 3: Mawlamyine – cruise over Thanlwin River to Hpa An (B, L)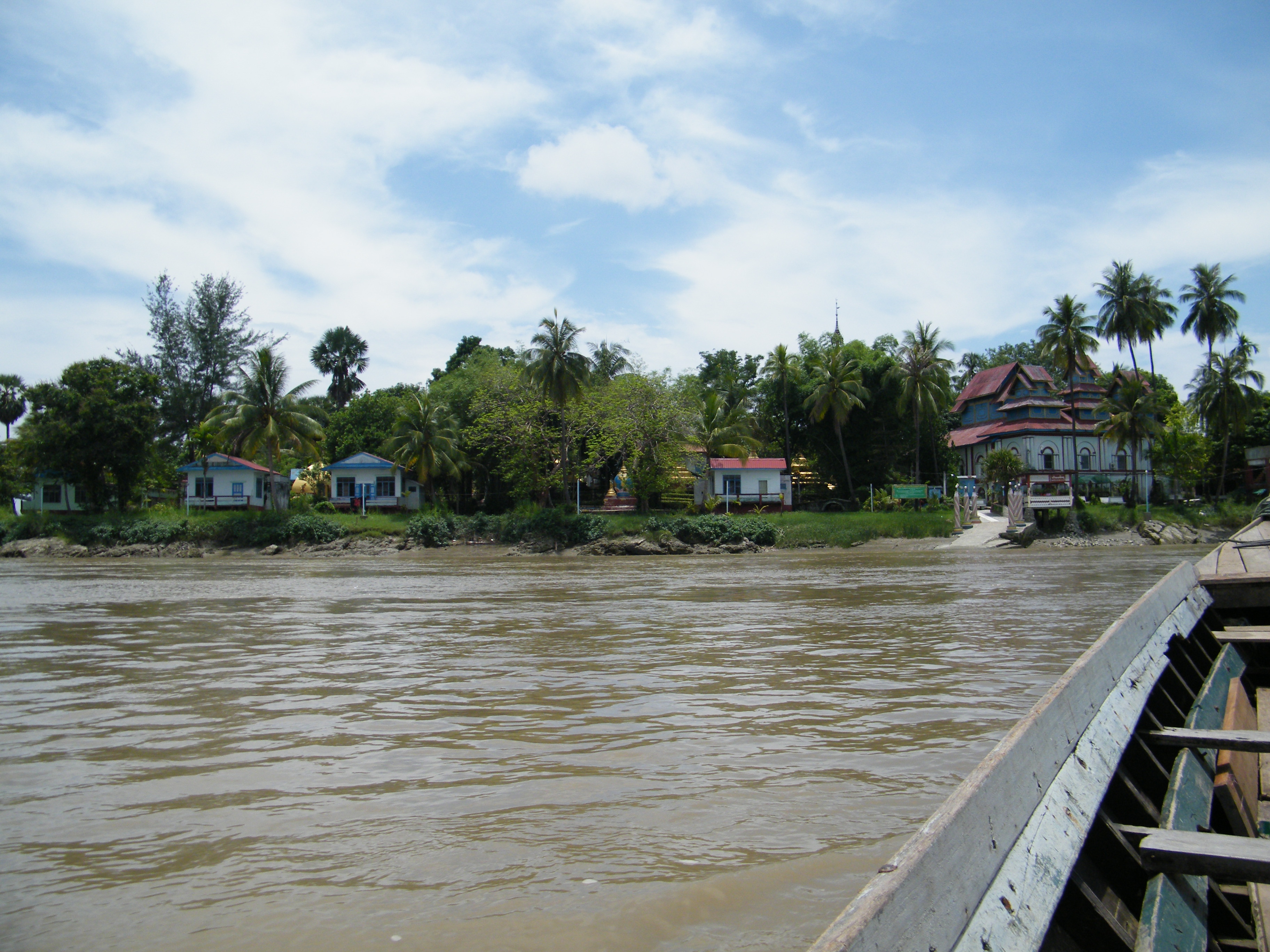 Breakfast at the hotel. At 07:30 a tuk-tuk will pick you up to go to the jetty from where we take private motor boat for a cruise over the Thanlwin (Salween) River – one of the longest rivers in Myanmar ending in Mon State. After about an hour we arrive at a small jetty in U Na Auk village from where you take a tuk-tuk to visit the amazing carvings and decorations or the temples and ordination hall donated to the village by Mr Na Auk. In modern schoolbooks his story is taught and everybody in the country knows his name and stories how he offered free transportation for the local people in his area, offered food and managed to compete with the British traders. The temple committee does not ask entrance fees but a donation is greatly appreciated – we suggest a donation of 5.000 Kyats per person as the community really needs to money to keep the buildings in such a good shape. We continue the boat trip over the Thanlwin River with spectacular sights on Zwekabin and other limestone mountains rising from the rice fields. A highlight of the trip through this part of Myanmar. A simple lunch is served on board.
Arrive around 14:00 in Hpa An – on arrival at the jetty you have to arrange a local motor taxi or tuk-tuk on your own to the hotel in the centre of the town (costs about 2.000 Kyats per person). The hotel is quite simple and is the best there is in the centre.
Overnight at Hotel Gabbana – Deluxe room
Day 4: Hpa An – Kayaking, Kayin village walk and a cave (B, L)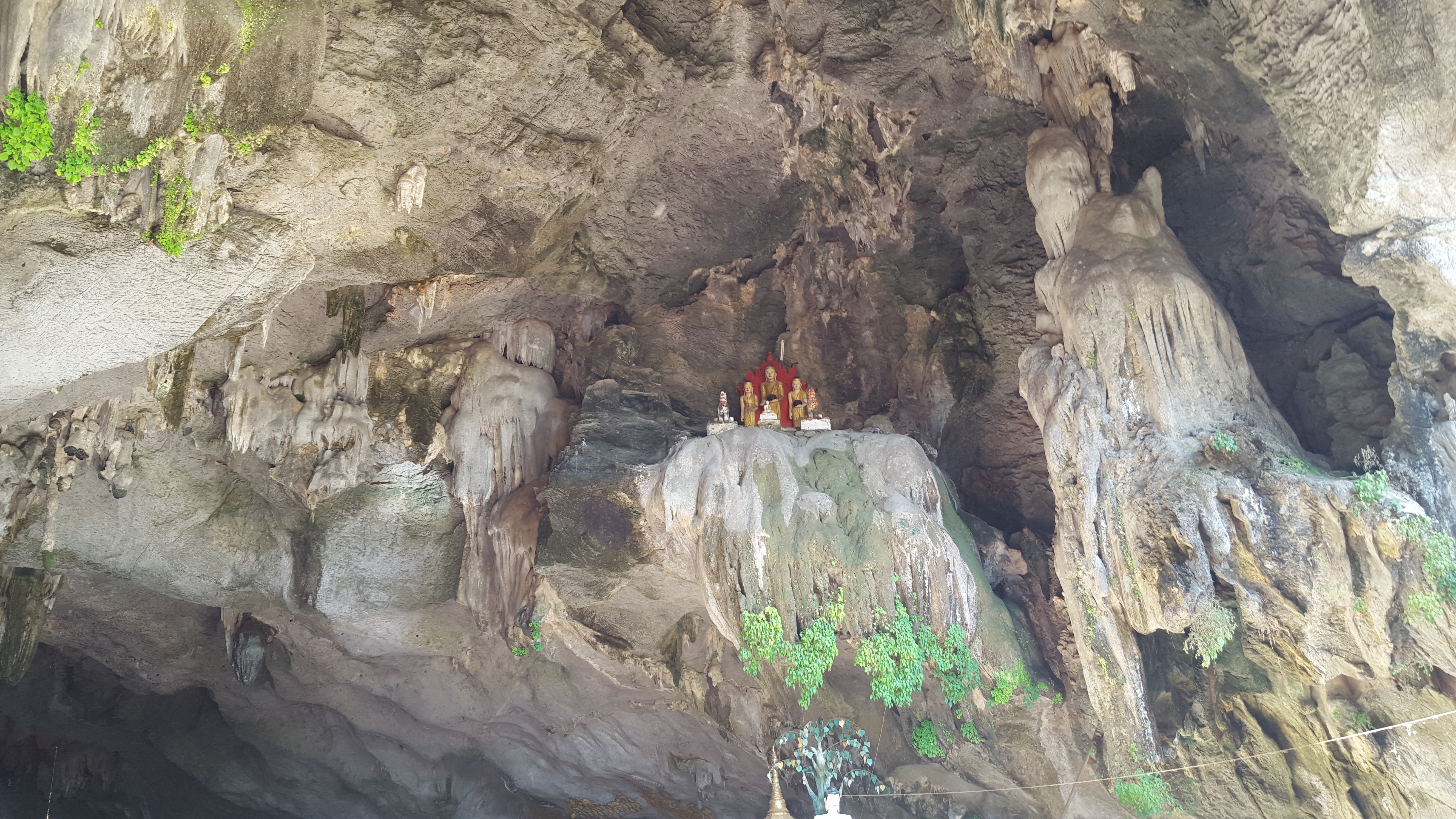 Breakfast at the hotel. Be prepared for a soft adventure day with a lot of activities and impression to experience real Kayin life style. We start the day by small kayaks to go for a leisurely trip by kayaks through the paddy fields for half an hour or so. If you don't feel like paddling yourself, let us know and we arrange a local Kayin man to paddle for you. We leave the kayaks behind and continue on foot through the forest visiting Kayin villages for a leisurely walk of about an hour. A great trip to get a feel for the real Kayin life in the jungle. From here we continue on foot (about 1,5 hour) passing several other Kayin villages. A leisurely kayak trip of half an hour brings us to a beautiful traditional local house where a home cooked lunch is being served by the local host. From here we continue by local transport to explore the famous Saddan cave. Attention: as the creeks in this rural part are quite shallow we use small kayaks to travel around which means that you could get wet – slippers, shorts and a t-shirt are recommended. It's possible to shorten the village walk. We wants to support local communities and therefore we decide to have the tour accompanied by local people who have limited English skills but love their area and will lead you though their community with pride. A motorbike taxi or car will bring you back to the hotel.
Overnight at Hotel Gabbana – Deluxe room
Day 5: Hpa  An – Kyaikto (B)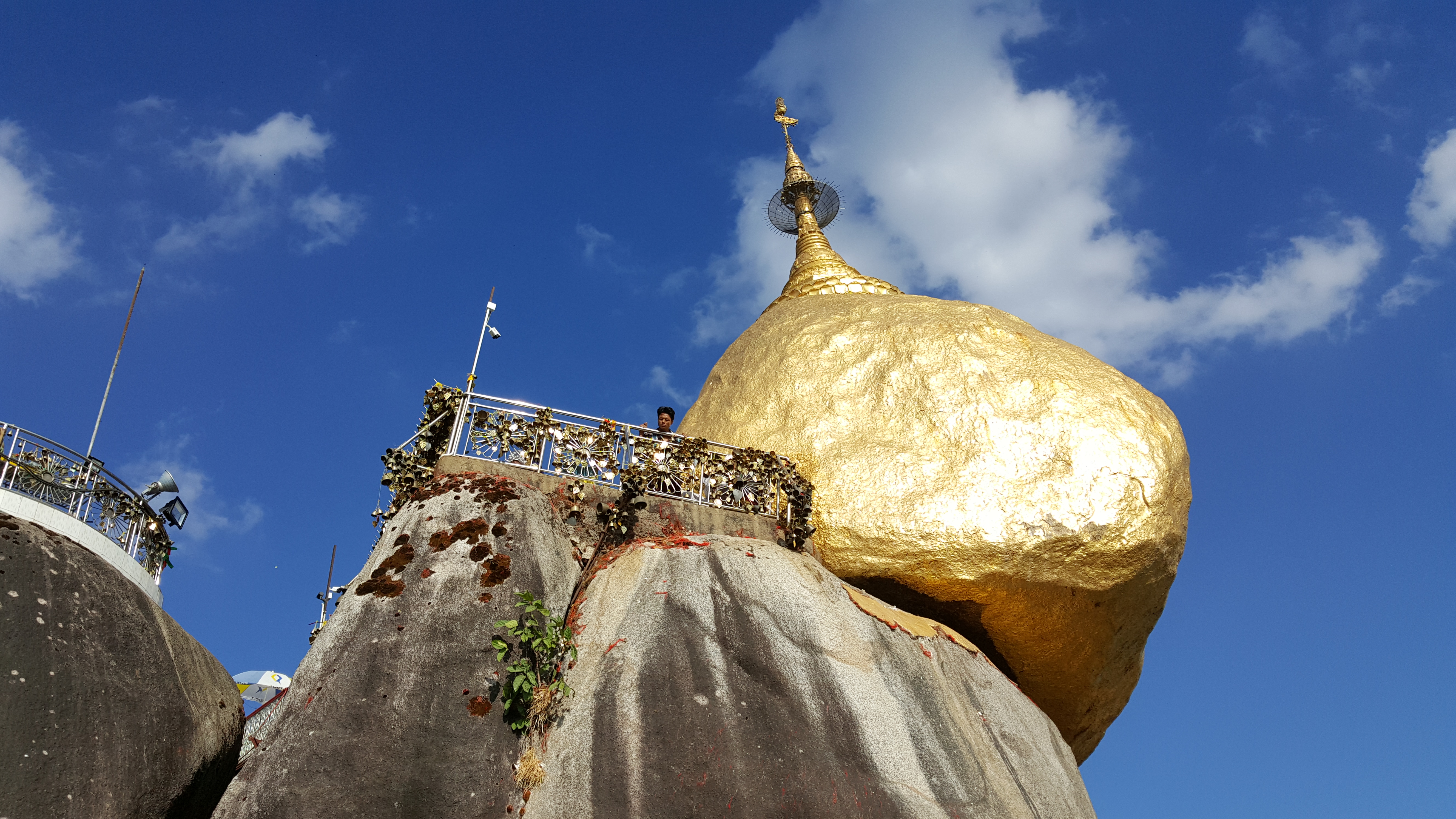 Breakfast at the hotel. This morning you will have to arrange your own transfer to the bus station. We have reserved seats for you at the 07:00 A/C bus to Kyaikto where you will arrive around 10:00. At the junction in Kyaikto there are   always plenty of tuk-tuks available to bring you in about 30 minutes to the Goden Sunrise hotel which is on the left side of the road just before Kin Pun basecamp. Expected costs about 10.000 Kyats.
One of the most important pilgrimage sites for Myanmar Buddhist: the Golden Rock (Kyaiktiyo Pagoda). A big rock with a small pagoda built on top of it, is balancing on the edge of a mountain and looks as if it could tumble into the ravine below at any moment. The site can be reached by a truck ride on an open truck or cable car, after a short walk (1.5 hours). Surrounding the Golden Rock are numerous local teashops, rest places and monasteries as well as local souvenir shops. We suggest you to drop your luggage and walk to the basecamp to take a shared truck up to the second basecamp from where walk in about 1 hours to the Golden Rock itself. Spend the afternoon on the platform and then take a truck back to Kin Pun basecamp and walk in 10 minutes to your hotel. Or – if you are in a good [physical shape – walk downward in about 3-4 hours all the way from the Golden Rock to your hotel over the old pilgrims path.
Overnight at Golden Sunrise Hotel – Deluxe room
Day 6: Kyaikto – Yangon (B)
Breakfast at the hotel and morning free at leisure. You are expected to arrange the transportation to the Kyaikto bus station on your own (about 30 minutes). We have reserved seats for you on the A/C bus to Yangon leaving at 13:00 from Kyaikto bus station. Expected arrival in Yangon at Mingaladon Bus station around 18:00.
*End of service*
What is included in the tour
All transport as per the program incl train and bus tickets
All accommodations as per program (based on double sharing room)
Service English speaking guide on day 2 in Mawlamyine
Private boat trip Mawlamyine to Hpa An
All meals as mentioned (B=breakfast, L=lunch, D=dinner).
Kayak trip in Hpa An
What is NOT included in the tour
Air tickets domestic and international
Some tuk-tuk or motorbike transfers (as mentioned in program "on your own")
Insurance
Personal expenses
All drinks
Tips
Other expenses that not mentioned on the itinerary
Entrance fees
Any peak season surcharge (normally New Year period)
Visa fees and/or visa authorization