This 10 days Fun Sightseeing and biking around Myanmar tour will take you on a cycling adventure, insightful cultural visit by combining with fun and exciting bike rides. And also you will take part in traditional culinary tour through the street stalls and tea house, even experience of the cooking class. Get to see the wonderful ancient sites of Myanmar and meet the local people and witness their daily life style.
10 Days
Available on request
Yangon International Airport
Highlights
What makes this tour special
Discover the ancient and colonial site of Yangon
Explore the leafy backstreets of Mandalay and ride out into the surrounding countryside
Take part in morning culinary adventure through the street stalls and tea houses of Mandalay
Explore the ancient capital of Ava by a mountain bike
Learn a genuine taste of adventure by visiting remote place rarely visited by tourist
Walk on the teak bridge and experience sunset behind the iconic U Bein's Bridge.
Discover the history, lifestyle, local industries and culture of this highlight of Myanmar
Learn more about the legends and stories connected to this mystical place
Venture remote,  authentic  villages and  both iconic and lesser-known temples
Experience a golden sunset on cocktail cruise along the Irrawaddy River
Discover around Inle Lake by bike, boat and kayak
Take part in fantastic traditional lunch in an exclusive Shan house
Experience thrilling boat ride down the weirs of the Indein Waterway 
Day 1: Arrival Yangon & Sightseeing (-)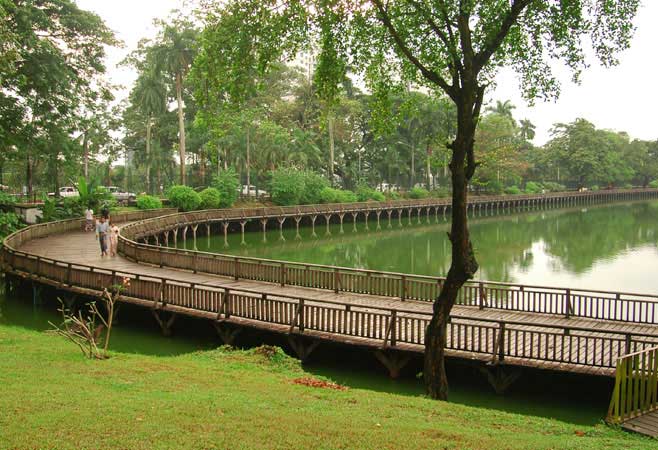 Upon your arrival, your guide will meet and greet at the airport arrival hall and then transfer to your hotel for check in.
After that you will start your half day sightseeing in Yangon by visiting Chaukhtagyi Reclining Buddha located in a large metal-roofed pavilion on Shwegondine Road. Continue your visit to Scott Market (closed on Mondays and Public Holidays) which has the largest selection of Burmese handicrafts. Afterward, drive to the very centre of downtown Yangon to see Sule Pagoda. In the evening, visit and enjoy the sunset at the Shwedagon Pagoda, world-famous; its golden stupa is the 'heart' of Buddhist in Myanmar, located in midtown Yangon between the People's Park and the Kandawgyi Lake. The pagoda is believed to be 2,600 years old and the stupa is surrounded by intricately decorated buildings and statue.
After a today tour, you will transfer to your hotels.
Overnight in Yangon
Day 2: Circular Train in Yangon & fly to Mandalay (B)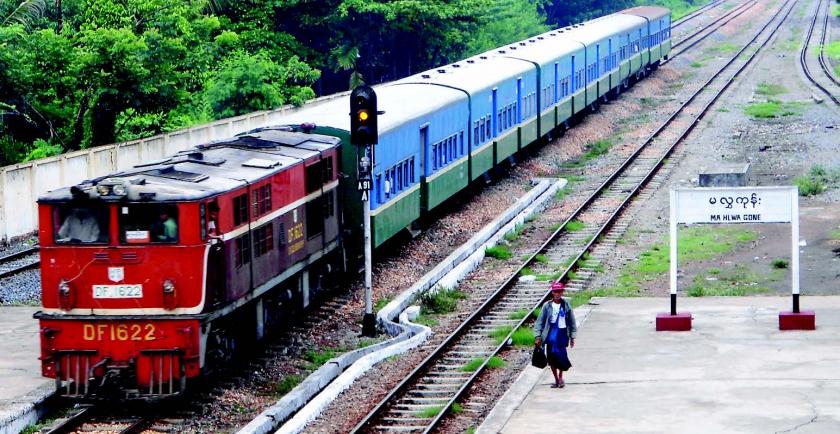 You will transfer to Yangon Railway station to embark upon a circular train journey to the outskirts of town (30-45 minutes ride) to observe the lively and colorful life of the rural Burmese people. Disembark to visit Danyingone Vegetable market and enjoy exploring the market and meeting the friendly locals before heading to Yangon Domestic airport. Have lunch on the way to airport or at the airport at your convenience. Your driver with your luggage will pick you up at the market. Then you will fly to Mandalay. Upon your arrival, You will be transferred to your hotel in Mandalay.
Overnight in Mandalay
Day 3: Fullday Mandalay (B)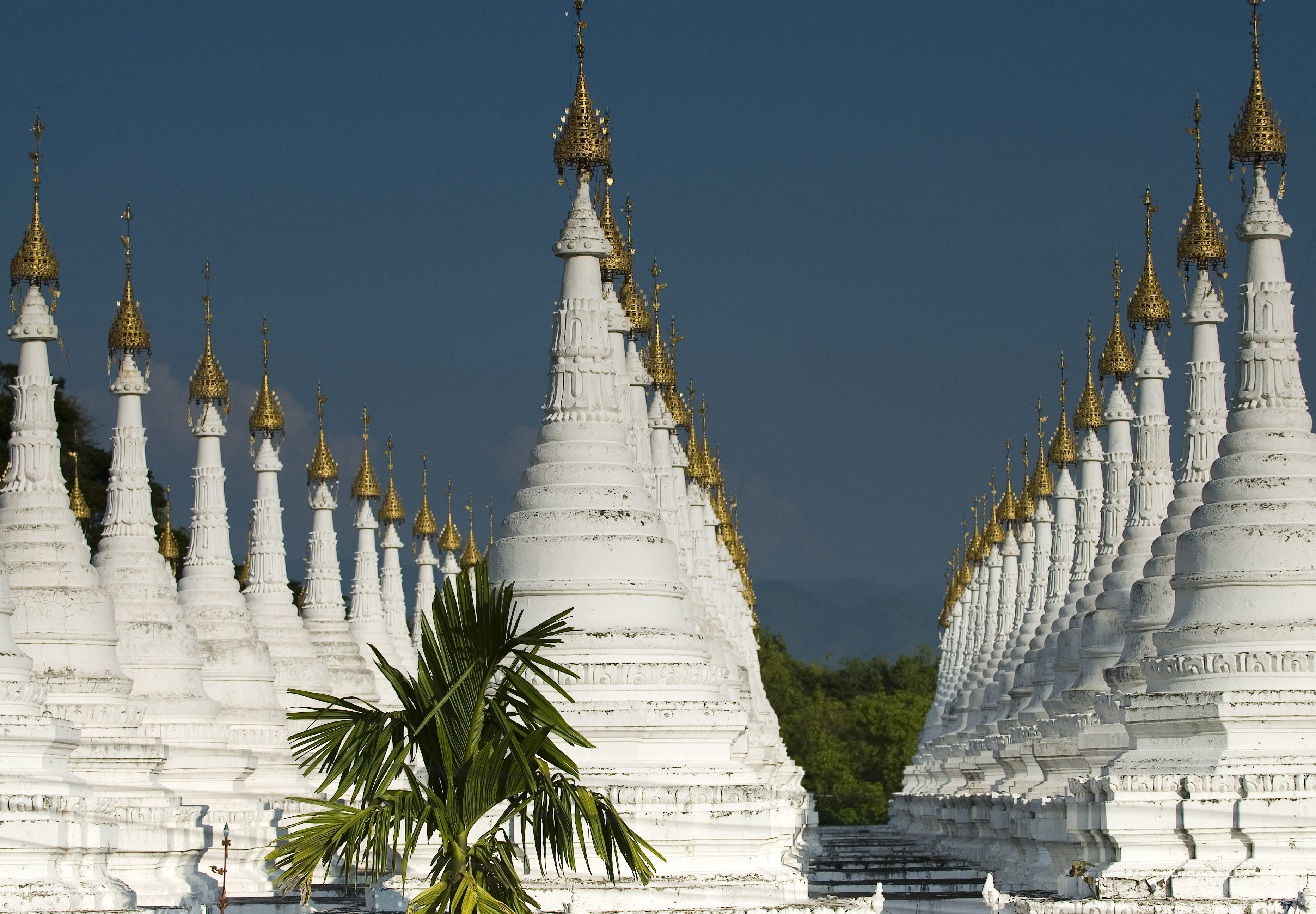 You will first visit to Mahamuni Pagoda which is home to one of the country's most revered Buddha images which, over the years, have been covered with gold leaf giving it an almost 'lumpy' texture. Mandalay is well known for its skilled craftsmen and as you tour traditional workshops, you will learn more about the city's cottage industries. Observe the production of wood carvings, kalaga tapestries, and gold-leaf where the techniques remained unchanged from those used centuries ago to craft items for the Royal Court.
Next visit to Kuthodaw Pagoda, whose 729 marble stone slabs of Buddhist scriptures have earned it the title 'World's Biggest Book'. Walk onwards to Shwenandaw Monastery, the only remaining building from the 19th century Royal Palace. This grand teak building is known for its exquisite woodcarving.
Head to the top of Mandalay Hill as the sun begins to set to enjoy magnificent views of the city and Irrawaddy River.
Overnight in Mandalay
Day 4: Morning Foodie Tour & Evening Sunset (B, L)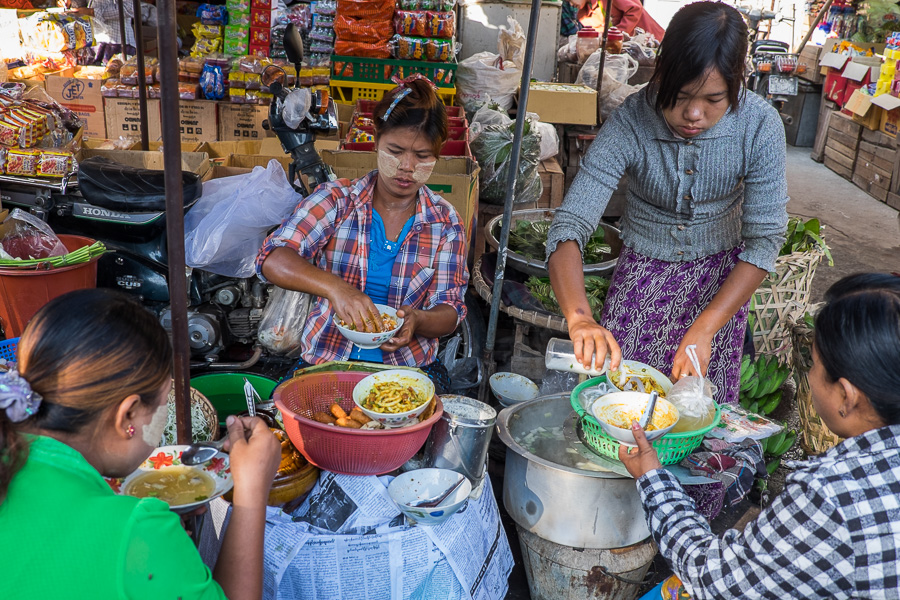 This morning, you will be taken by our driver to start your tour.  You will travel by classic bicycle rickshaw, a leisurely way to take in the passing suburban scenes. Then sample the famous delicacies of Myanmar. Mohinga, noodles, Mandalay pancakes, samosa, palatta, and green tea leaf salad. Stretch your legs at a colourful local market where your guide will give you some  unique  insights into local customs and culture.
In the afternoon, you will ride along shady trails through the ruins of the ancient capitals of Ava and Amarapura with expert guides who know their history. Ancient traditions still thrive in this area. We will introduce you to a range of timeless crafts, industries and local customs. The best place to catch a sunset is from a boat on Taungthaman Lake, floating beside the longest teak footbridge in the world.
Overnight in Mandalay
Day 5: Boat to Bagan (B)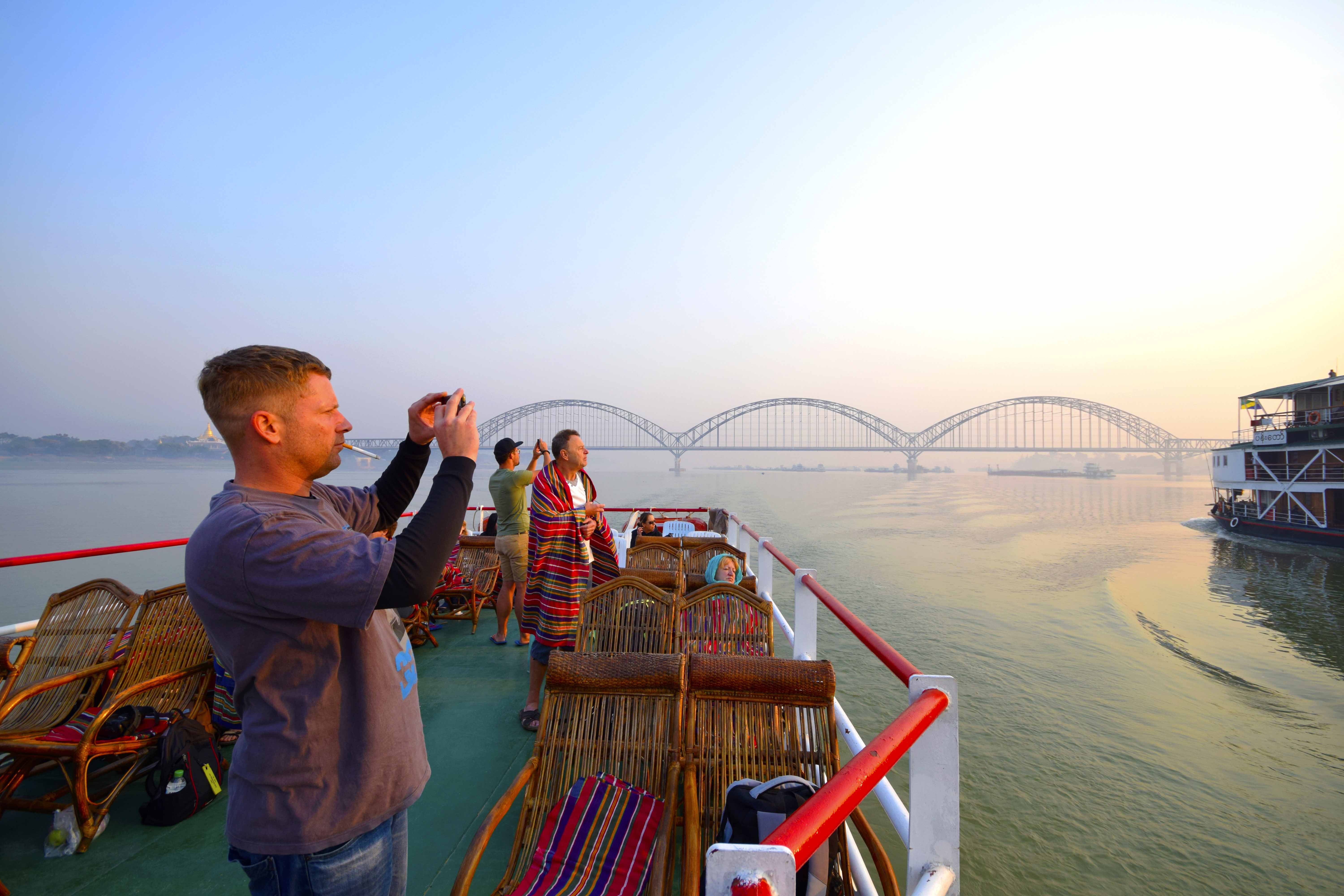 In the early morning, you will be dropped off at the Jetty to board on a Mandalay-Bagan day Cruise which takes about 10 hrs  along the way enjoying different rural spots, daily life of village peoples along the magnificent Ayarwaddy River, beautiful scenery over Sagaing Hill from the Boat. Upon arrival in Mandalay, our station driver there will meet you at the jetty and transfer you to your Hotel.
Overnight in Bagan
Day 6: Bagan morning ride, boat & Sunset (B,L)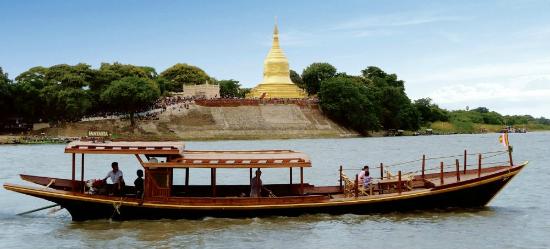 You will be taken to start your biking tour this morning. It's easy to get lost in this maze of temples, but our cycling guides know all the hidden tracks and will bring you far off the tourist trail. Village Life here moves at a slower pace. You are more likely to encounter cows, pig, buffalo, or an ox-cart on the road than another vehicle.  End the morning ride with a well-deserved lunch. Discover local delicacies such as noodles, dumplings and salads served in a classic setting.
Then continue biking by enjoying over 2000 ancient buildings, it is easy to get overwhelmed by the sheer size of Bagan.  Visit remote villages for unique insights into the many enduring traditions and cultures of these Dry Zone communities. Finally enjoy snacks, beer and cocktails as the golden sun sets over the Irrawaddy River. Then an air-conditioned van brings you to hotel.
Overnight stay in Bagan
Day 7: Day Trip to Mt. Popa & Salay (B)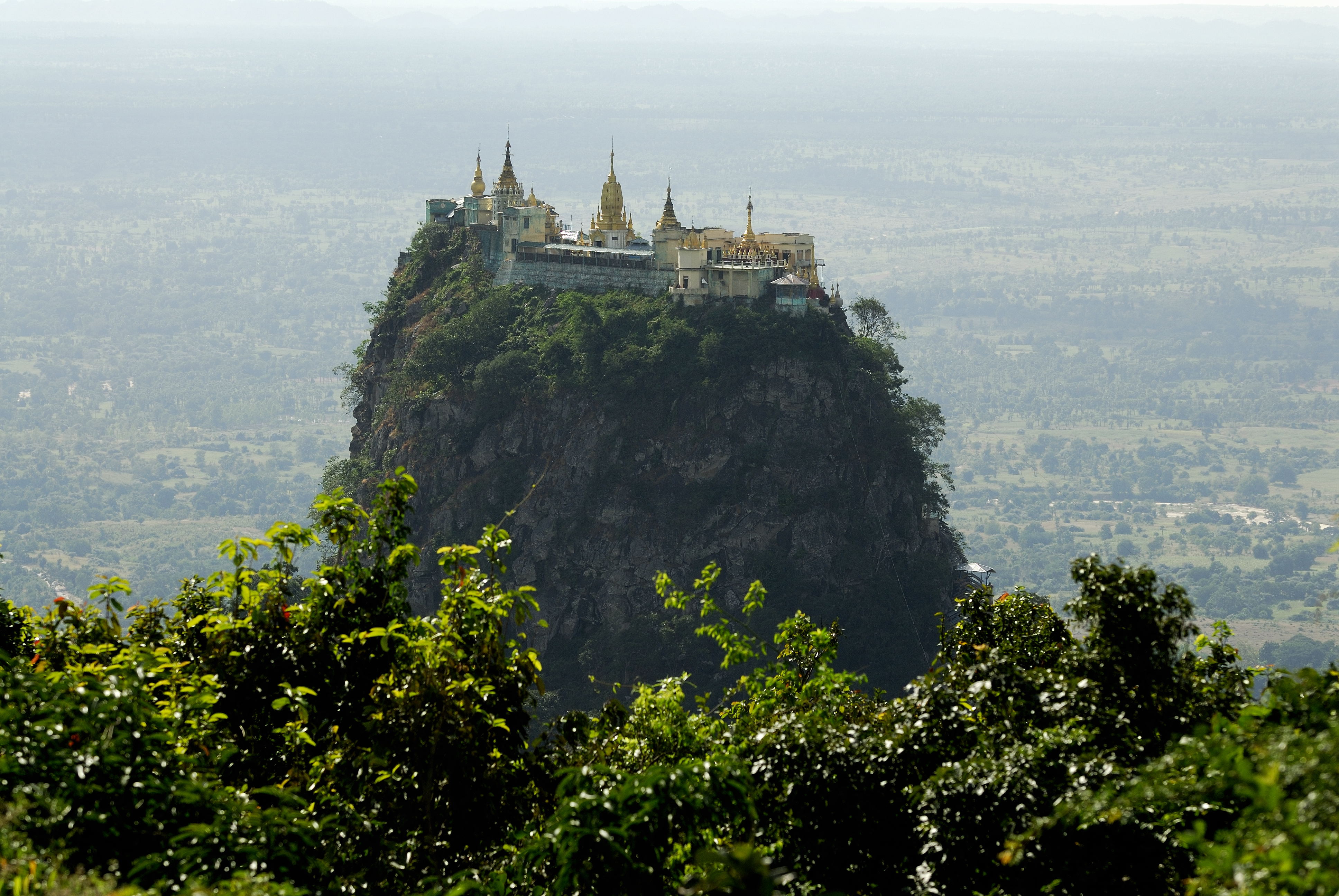 Begin with a drive south, parallel to the Irrawaddy River, en route to Salay. After one hour we'll make a stop in Chauk which has a colorful morning market to explore. Few tourists visit this market and it is a great place for local interaction and photos.
Continue to Salay (30 minutes) an important center of Buddhism in Myanmar with many active monasteries. Salay, many years ago, created its own unique style of Bagan-era architecture including Salay is Yoke SoneKyaung monastery, one of the oldest wooden halls in the area.
We then head east toward Mount Popa, an extinct volcano standing 1518 metres high. Arriving at midday, we'll first go to Popa Mountain Resort for lunch with fabulous views over the surrounding area.MountPopa has played an important role in Myanmar culture, religion and history since earliest times. The view over the Myingyan Plain from the top of the volcanic peak is impressive (and the climb is optional!).
Transfer back to Bagan late this afternoon.
Overnight stay in Bagan
Day 8: Fly to Inle Lake, Normal sightseeing on the lake(B)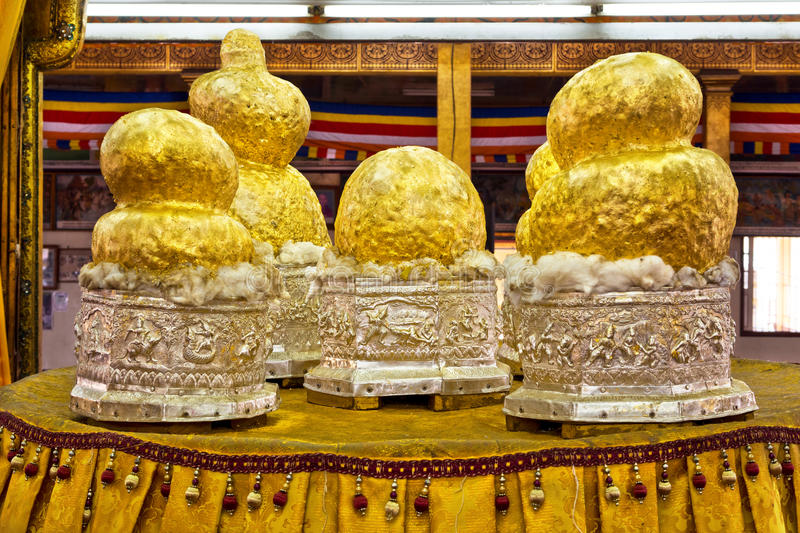 Our driver will send you to the airport for your flight to Inle Lake. You will be picked up at the Heho airport from where a scenic one-hour drive leads to Nyaung Shwe, the gateway village to Inle Lake. Along the way, stop at the wooden Shwe Yan Pyay Monastery which features beautiful carvings and a collection of Buddha images. Start with a visit to the NyaungShwe morning market where locals gather every morning to buy and sell fresh produce from the lake and its surroundings. Take a tour by local trishaw the bustling canal and watch the boats unload their produce for distribution to markets around the country. Visit the 'tomato house', a warehouse where produce is sorted and priced for sale. Upon reaching the edges of Inle Lake, board a private motorboat for a river cruise past Intha villages built on stilts over the lake and floating garden. Also, observe the leg-rowing fishermen. Visit Phaung DawOo Pagoda, the lake's main sanctuary, housing five sacred Buddha images covered too much in gold leaf and make the Buddha Images to disappear its, original shape and form instead become look like a big chunk of Golden Mushroom. Then return to land for your overnight stay.
Overnight in NyaungShwe
Day 9: Mountain, lake & bike adventure (B)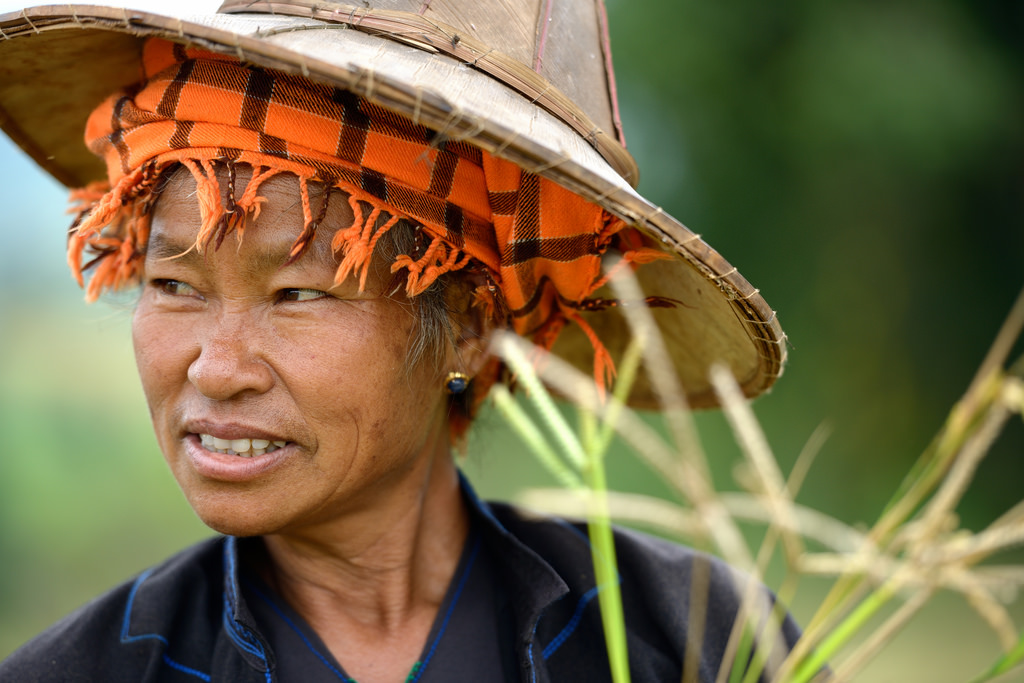 Start the day with the colourful communities of Pa-O farmers, rolling hills and sweeping vistas. Then, marvel at the skill of your boatman as he navigates the weirs of this jungle-clad waterway and spot remote pagodas behind the trees. After some exhilarating single- track forest cycling we arrive at a remote winery. Here we enjoy wine, food and panoramic views.
Overnight in NyaungShwe
Day 10: Heho – Yangon, departure (B)
After breakfast, transfer to the airport for your flight back to Yangon Domestic Terminal and then with a short walk to International Terminal for you departure flight back home or next destination of your vacation plan. 
What is included in the tour
Accommodation inc. breakfast (B)
other meals as detailed in the itinerary (L=lunch, D=dinner)
local specialized tour guide (English-speaking, other languages available on request)
all transfers
boat tours and air-conditioned car/van transportation as detailed in the itinerary
domestic flights as detailed in the itinerary, economy class (20 kg luggage per person)
sightseeing as detailed in the itinerary inc. entrance fees
one high-quality guidebook per room
What is NOT included in the tour
international flights from and to your country of origin
travel insurance
meals other than those explicitly mentioned, drinks, tips and personal expenses
visa fees