This exciting 7-day adventure will take you to different amazing places in Myanmar. First stop is the capital city of Yangon where you will visit ancient monument and structures. This will be followed by a journey to the marvelous city of Mandalay where more ancient sites await you. You will also tour wonderful sites along Inle Lake and Bagan.
6 Nights 7 Days
Available on request
Yangon International Airport
Highlights
What makes this tour special
Explore the magnificent ancient and present-day sites of Yangon
Learn about the Buddhist belief and religion at the world's biggest book in Mandalay
Visit the sacred sites in Mandalay
Learn about Mandalay's traditional crafts
Stroll across the 200 year old U Bein Bridge and experience the beautiful sunset
Explore exciting and beautiful sites surrounding Inle Lake
Learn more about Bagan's rich history and culture
Observe river life on a boat cruise
Day 1: Arrive Yangon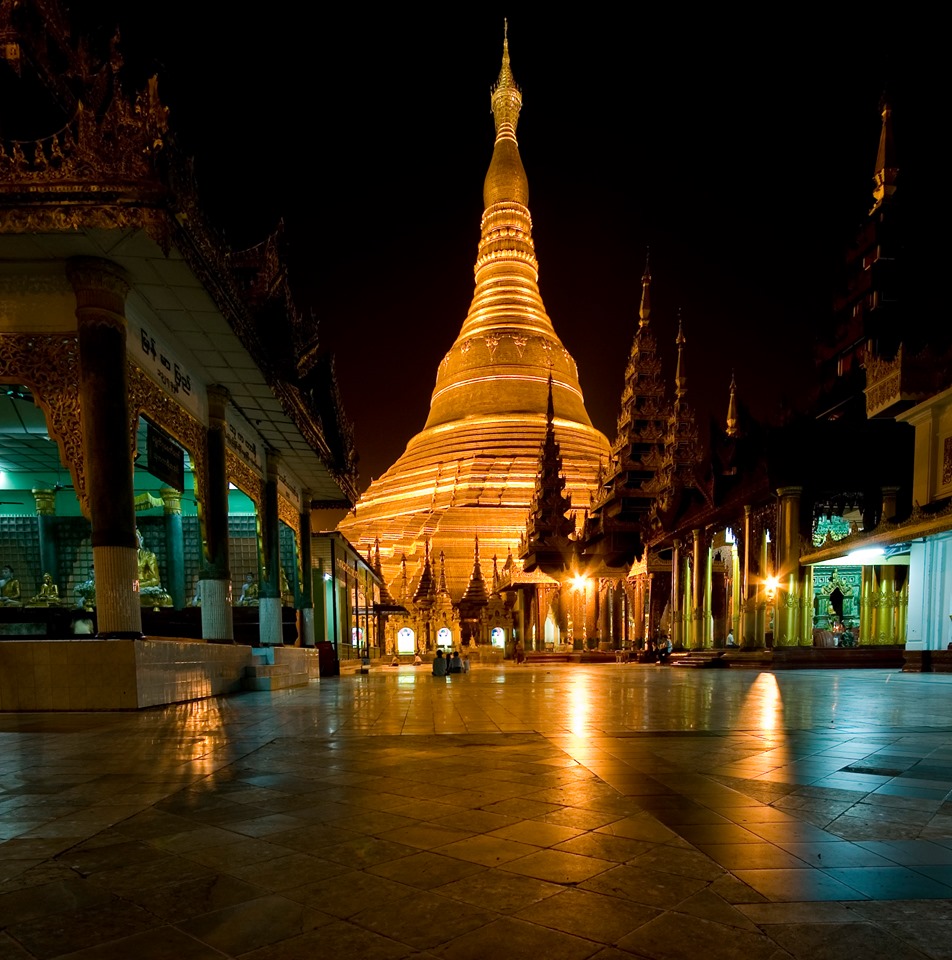 Upon your arrival, our guide and car will pick you up and you will be transferred to your hotel.
After a short rest, you will visit the Kandaw Gyi Lake together with the Karaweik Park. Then visit the reclining Buddha in Mega Size named Chauk Htat Gyi which is 256 feet (About 70 Meters) long. Finally you will visit the famous Shwedagon Pagoda decorated with Gold Leaf and Gold Plates during the setting sun is a wonderful moment to enjoy the alteration of lustre and the tones of its gold colour according to the brightness of the sun could last in your forever lasting memory.
Overnight in Yangon
(Your hotel room is available from about 2.00 pm available. Your luggage may already be parked in the hotel and is a former reference of rooms subject to availability on arrival.)
Day 2: Yangon Sightseeing, Fly to Mandalay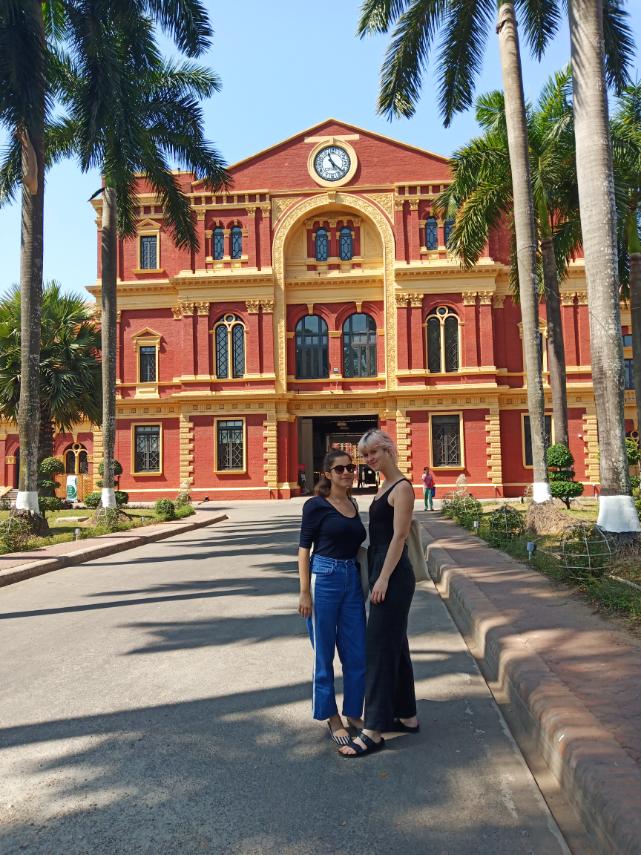 Today after breakfast, first you will visit the Bothahtaung Jetty and Bothahtaung Pagoda, which is an ancient arrival port of entry to Yangon. Then Proceed to the Pansodan Jetty where Mr. Adoniram Judson, an American Baptist missionary Arrived in the 1813. Visit the Historical Hotel named Strand Hotel which was built since 1901 and is a hotel on the list of the Yangon City Heritage.
Then start a short walking tour around the historical buildings which bring back the image of Colonial era, walking along the Pansodan Road, where colonial buildings line up on your both sides, till you get to Sule Pagoda the spot that represents the centre of Yangon where you will be surrounded by The High Court, Immanuel Church, Islamic Moresque and Sule Pagoda all these different Religious Buildings will convince you that Myanmar has a freedom of Religion. Then you will see the City Hall and the Independence Monument which is standing in the middle of Beautiful Mahabandula Park. Then proceed to walk through the Indian District to observe daily lives by selling all kinds of old and junks for electrical appliances, those seems to be worthless but eventually not for some particular customers. Then proceed for lunch in the afternoon.
After lunch at Padonmar Restaurant with Typical Myanmar Cuisine (your own account).
Then, you will transfer to the Yangon Airport for a flight to Mandalay. Upon your arrival in Mandalay, our guide and car will be waiting and transfer to your hotel in Mandalay. You will have a leisure at the rest of the day.
Overnight in Mandalay
Day 3: Mandalay - Sagaing – Ava- Amarapura – Mandalay ( B, - ,- )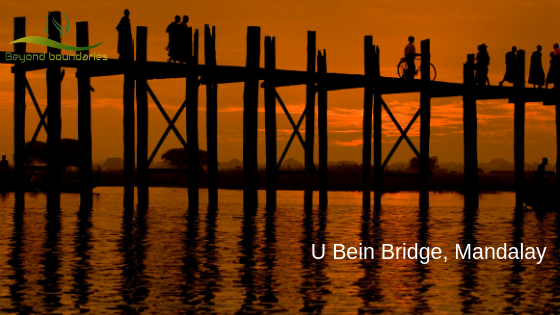 This morning, start an excursion with a visit to Mahagandayon monastery, home to over one thousand monks. (Note: if you would like to go at the time of almsful, you need to go at 5:00am). Then, depart for an excursion around Mandalay to explore the former capitals of Ava, Sagaing and Amarapura. This morning, drive to Ava, the capital from 14th to 18th centuries. Bikes are the best way to tour Ava's beautiful ancient capital, an area rich in history and light on traffic. Shady trees and flat cycling make a great tou r route, riding through small communities and picturesque ruins. Visit the old wooden Bagaya Monastery and the remains of the Royal Palace and Fort. There are many small villages located amid Ava's ruins and as you travel by horse and cart you'll get a glimpse of local life in the Burmese countryside.
Then cross a bridge over the Irrawaddy River to Sagaing, the religious center of Myanmar. Covered with 600 white-painted pagodas and monasteries, it is home to 3,000 monks and 100 meditation centers. You will visit pagodas such as Swan Oo Pon Nya Shin and U Min Thone Sae. You'll also visit Sagaing's market, for a range of items for sale including locally made pottery, silver and other handicrafts. We will also stop at a small pottery village to see the process of making the water pots found throughout Myanmar Return toward the city and stop at Amarapura, the 'City of Immortality'. Visit a silk weaving workshop which produces exquisite handmade and continue on for a stroll across the 200 year old, teak U Bein Bridge. 1.2 kilometers in length, it is the world's longest teak span.
Overnight in Mandalay
Day 4: Mandalay – Mingun – Mandalay (B, L, -)
After breakfast, travel to the Mandalay jetty and board a private boat for a relaxing cruise down the Irrawaddy River to Mingun. Your visit to Mingun will begin with the unfinished Mingun Pahtodawqyi which is in Mega Size as a landmark to welcome you, which is left without completion due to the prediction of an astrologer, predicted the King's would die should the temple be completed. Notice the 90 ton Mingu Bell which was dedicated for the unfinished Pathodawgyi, assumed to be the largest ringing bell which is sound.
Continue your visit at the beautiful white Hsinbyume Pagoda built to resemble the mythical Mount Meru. Return to Mandalay by boat, enjoying lunch on board. Next visit Mahamuni Pagoda, home to one of the country's most revered Buddha images which is heavily covered with gold leaf. Learn about Mandalay's well known skilled craftsmen and tour its traditional workshops. Observe the production of wood and marble stone carvings, kalaga tapestries, and gold-leaf using century's old techniques. Continue your tour of Mandalay with a visit to Kuthodaw Pagoda, home to what is considered "The World's Largest Book". 729 marble stone slabs of Buddhist scriptures are kept in this pagoda. Continue to the teak Shwenandaw Monastery, known for its exquisite woodcarving. This is the only remaining building from the 19th century Royal Palace. If you wish, head to the top of Mandalay Hill to watch the sunset.
Overnight in Mandalay
Day 5: Mandalay – Heho – Inle Lake (B, - , - )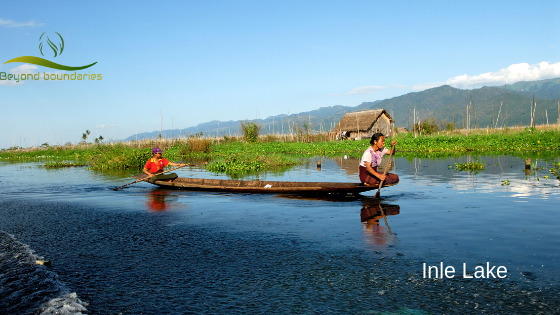 After breakfast, transfer to Mandalay Airport for a flight to Heho where a scenic one-hour drive leads to Nyaung
Shwe, the gateway village to Inle Lake. Along the way, stop at the wooden Shwe Yan Pyay Monastery which features
beautiful carvings and a collection of Buddha images.
Start with a visit to the Nyaung Shwe morning market where locals gather every morning to buy and sell fresh produce from the lake and its surroundings. Take a tour by local trishaw the bustling canal and watch the boats unload their produce for distribution to markets around the country. Visit the 'tomato house', a warehouse where produce is sorted and priced for sale. Upon reaching the edges of Inle Lake, board a private motorboat for a river cruise past Intha villages built on stilts over the lake and floating garden. Also, observe the leg-rowing fishermen.
Visit Phaung Daw Oo Pagoda, the lake's main sanctuary, housing five sacred Buddha images covered too much in gold leaf and make the Buddha Images to disappear its, original shape and form instead become look like a big chunk of Golden Mushroom. Then return to land for your overnight stay.
Overnight in NyaungShwe
Day 6: Cooking Class on Inle Lake, fly to Bagan ( B, L , - )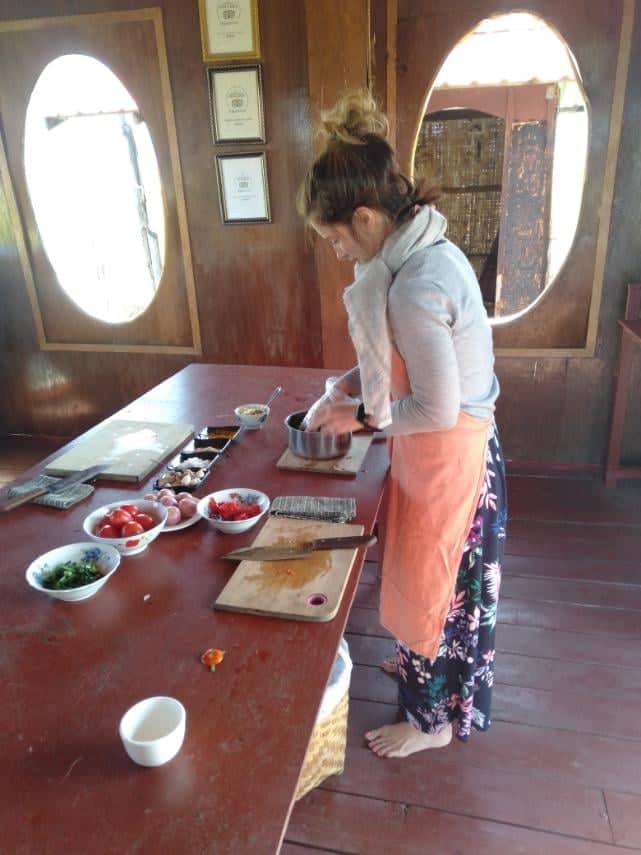 Today, you will take part in a cooking class in a  stunning location on Inle Lake and you will pick up around 8 am for the cooking class. Firstly, you will go to Mingalar market in Nyaung Shwe or five day markets to buy fresh ingredients. Shopping at a local market is the unforgettable memories and I am sure that you will love this activity. After shopping, you will arrive at Inthar house and have some tea before cooking. You will cook 8-10 dishes from local areas. After cooking, you could have lunch which yourself cook.
Then, having your lunch and taking after short rest. Then, transfer to Heho Airport for the 1.5 hour flight to Bagan. Upon arrival, your car and guide will be waiting to transfer you to your hotel.
Overnight in Bagan
Day 7: Bagan ( B, - ,- )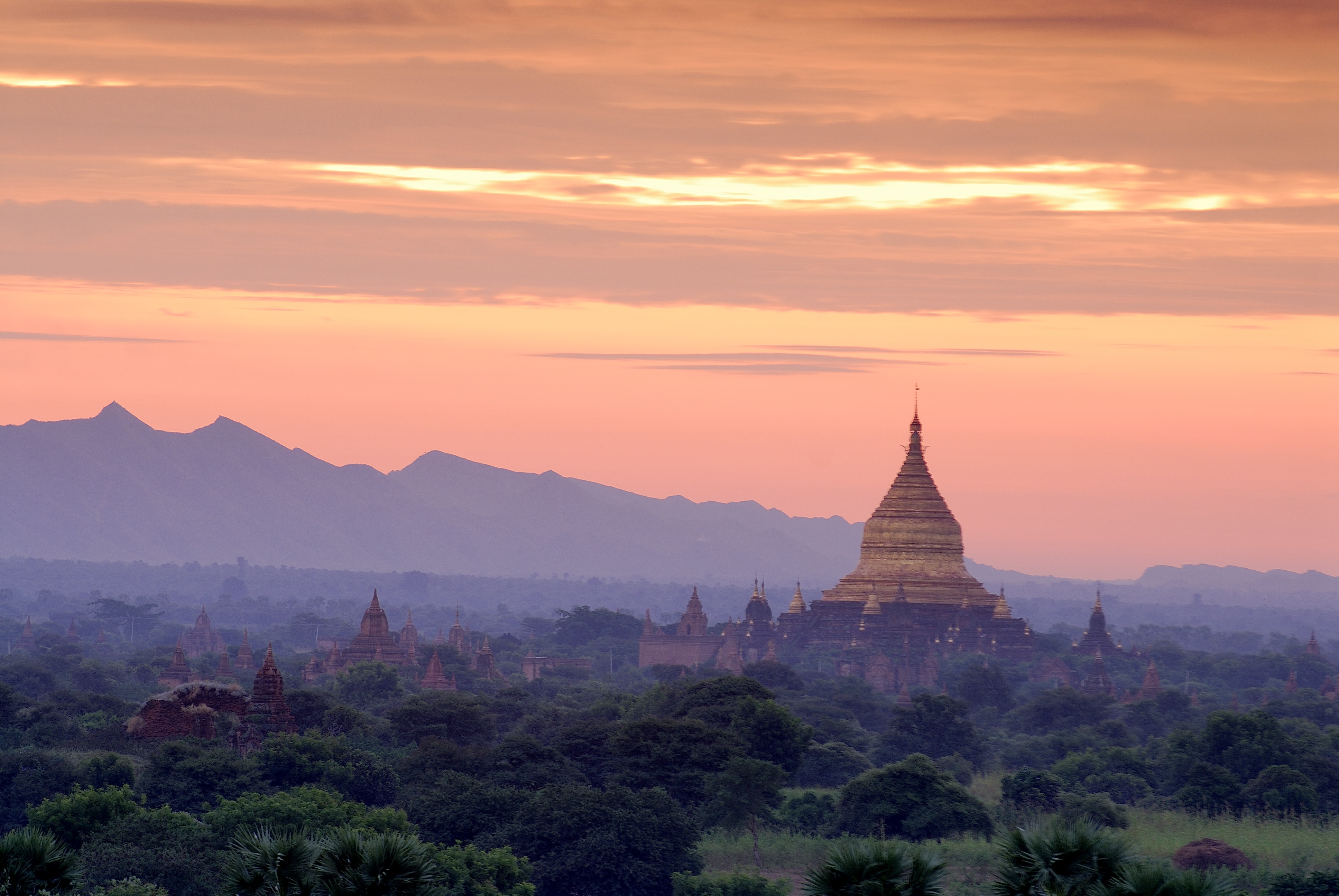 After breakfast stroll through the colorful market of Nyaung U and explore the archaeological fields of Bagan. Between the 11th and 13th century one of the greatest and most beautiful cities of Asia was located at this field and decorated with more than 13000 temples, pagodas and monasteries. Around 2000 religious buildings are preserved.
Visit the Shwezigon Pagoda which was built in the 11th century, the kubyaukgyi temple with its famous mural paintings and the Htilomino temple which reaches a height of 46 meters. In the afternoon continue to the well-known Ananda temple which once set the architectural benchmark in Asia. Later see the holy Manuha, Nanpaya and Myinkabar Gubyaukgyi. Enjoy the romantic sunset at one of the many pagodas.
Overnight stay in Bagan
Day 8: Bagan (B/-/-)
After you will also visit another cottage industry where PeChaung, another local famous snack, is made from gram bean. After that, we head out of town to a palm garden and visit the family of toddy palm climber. It is a good opportunity for you to observe simple ways of life of toddy climbers and their daily routines. Watch as they collect the juice from the toddy fruit and process it into molasses, alcohol and other items. From August to February, there are also other plantations (a variety of beans, peanuts, sesame and cotton) grown in the toddy garden.
After that you will take a short relax at your hotel to escape the midday heat.
In the evening, board a private river boat and set off along the Irrawaddy River which is considered tobe the life stream of Myanmar, You will cruise upriver toward KyaukGu U Min. Throughout your cruise you will witness everyday Burmese life on the water: fishermen, local ferry boats, riverside villages and views of the Bagan temples. You'll go ashore at SaeLan village and explore a typical riverside village along the Irrawaddy. The friendly people work as farmers and fishermen, living a simple but happy life. Continue by boat to KyaukGu U Min, spectacular a cave temple on the banks of the Irrawaddy, with notable sandstone carvings and a massive Buddha image. After your exploration of KyaukGu U Min, you'll return to the boat for a relaxing return cruise to Bagan (around 1 hour). Transfer back to your hotel upon reaching Bagan.
Overnight in Bagan
Day 9: Bagan – Yangon (B, - , -)
After breakfast this morning transfer to the airport for the flight to Yangon. Upon your arrival in Yangon, you will transfer to your hotel. At the rest of the day, you will have your free time.
Overnight in Yangon
Day 10: Yangon Departure (B, - , -)
Today is at your leisure until transferring to the Yangon international airport for your onward flight.
(Your hotel room is available until 12:00. If you are departing later, you can ask the hotel to keep the luggage. A late check-out is possible upon availability with some charge.)
*** End of Our Service ***
What is included in the tour
accommodationinc. breakfast (B)
other meals as detailed in the itinerary (L=lunch, D=dinner)
local specialized tour guide (English-speaking, other languages available on request)
all transfers
boat tours and air-conditioned car/van transportation as detailed in the itinerary
domestic flights as detailed in the itinerary, economy class (20 kg luggage per person)
sightseeing as detailed in the itinerary inc. entrance fees
What is NOT included in the tour
international flights from and to your country of origin
travel insurance
meals other than those explicitly mentioned, drinks, tips and personal expenses
visa fees