On this exploration tour, you will be visiting all the main destination of Yangon, Bagan, Inle Lake and Mandalay in Myanmar. You will be exploring from one destination to another by local night bus and staying at 3* accommodation. Since you will be tired travelling on the night bus, we have arranged early check in rooms for your refreshments before sightseeing. You tour and activities will be covering all the highlight landmarks in each destination. And there is no hidden cost. 
This tour departs on 8th of every months from September 2019 till April 2020. 
9 Days
Available on request
Yangon International Airport
Day 1: Arrival Yangon (- /L /D)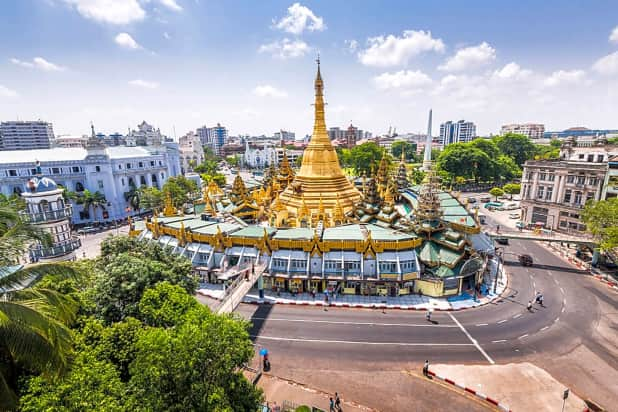 Upon arrival at Yangon International Airport meet with the guide and driver to transfer to your hotel. You will have a chance to freshen up and take a short rest.
In this afternoon, start a short walking tour around the historical buildings which bring back the image of Colonial era, walking along the Pansodan Road, where colonial buildings line up on your both sides, till you get to Sule Pagoda the spot that represents the centre of Yangon where you will be surrounded by The High Court, Immanuel Church, Islamic Moresque and Sule Pagoda all these different Religious Buildings will convince you that Myanmar has a freedom of Religion. Then you will see the City Hall and the Independence Monument which is standing in the middle of Beautiful Mahabandula Park. Then proceed to walk through the Indian District to observe daily lives by selling all kinds of old and junks for electrical appliances, those seems to be worthless but eventually not for some particular customers.
Overnight in Yangon
Day 2: Yangon Sightseeing, Dhala Food Tour, Night bus to Heho (B /L /D)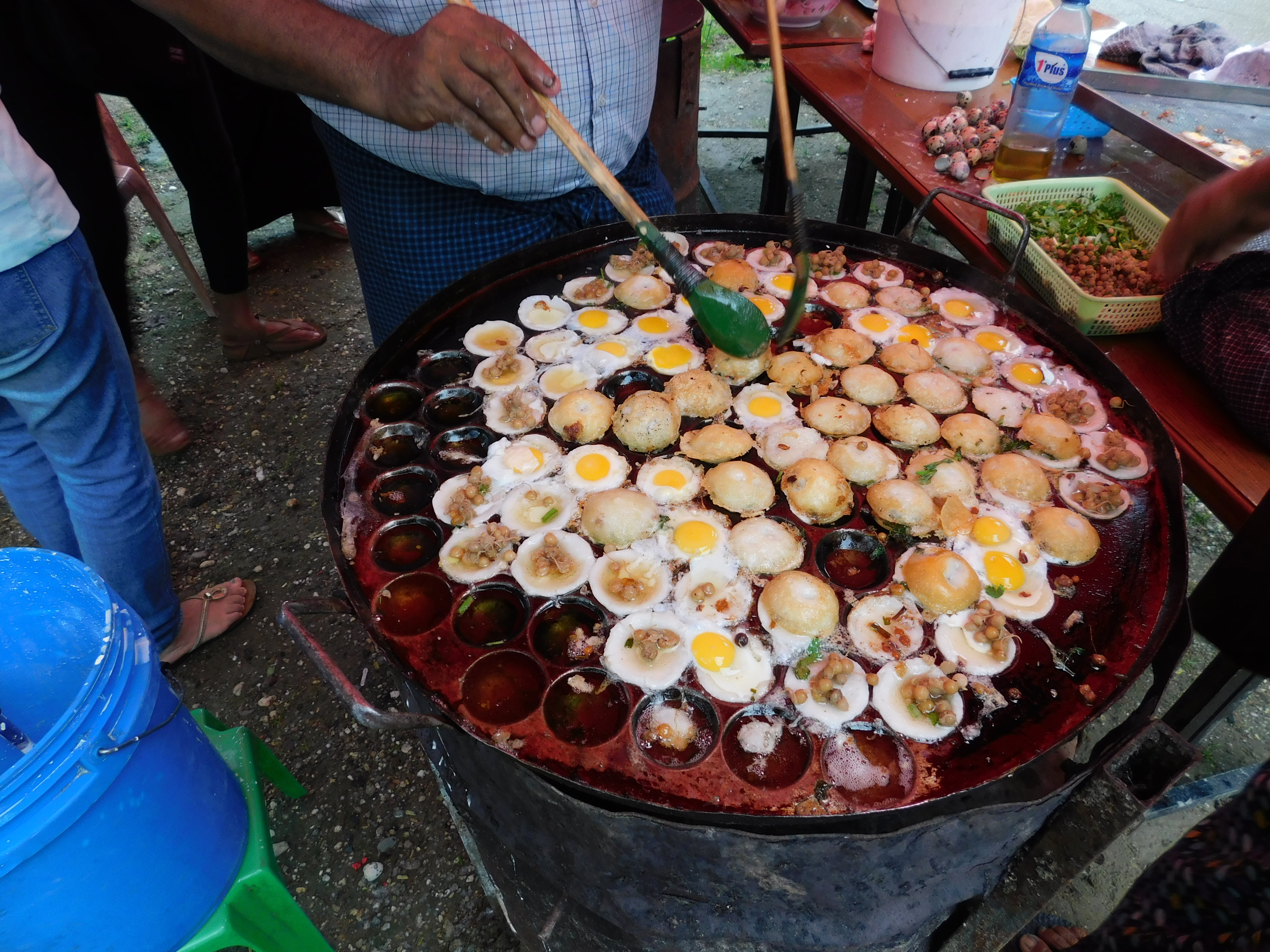 This morning after breakfast and check out from your hotel, you will visit the famous Shwedagon Pagoda decorated with Gold Leaf and Gold Plates during the setting sun is a wonderful moment to enjoy the alteration of lustre and the tones of its gold colour according to the brightness of the sun could last in your forever lasting memory.
Then, you will have a lunch at a stop at a restaurant for a lunch break. While waiting for your meals, get an enjoyable lecture on some Burmese words and savor delicious meals prepared by the young chefs. Afterwards, you will depart to the Pansodan Jetty to take a local ferry board across the Yangon River. Upon arrival at the other side of the river, take local trishaws to explore this small rural town full of incredible structures and lifestyles totally different from the city that you have just seen at the other side of the river. You will also be learning the local businesses along the trishaw ride by stopping at two or three workshops in town.
Here comes the most exciting part! Your trishaw will stop you at the spot where you join Street bites vendor and introduce each other to start an exciting unique experience of cooking famous street bites, such as (Mont Lin Ma Yar) husband and wife snacks and Burmese dosa with some varieties. This fun cooking lesson will be the most memorable for you interacting with local vendor while creating your own delicious snacks. Enjoy yummy bites after a while. Then, coming back to Yangon and transfer to the Yangon Express gate for the night bus to Inle Lake.
Overnight on bus
Day 3: Arrival Inle Lake& Sightseeing (B, L, D )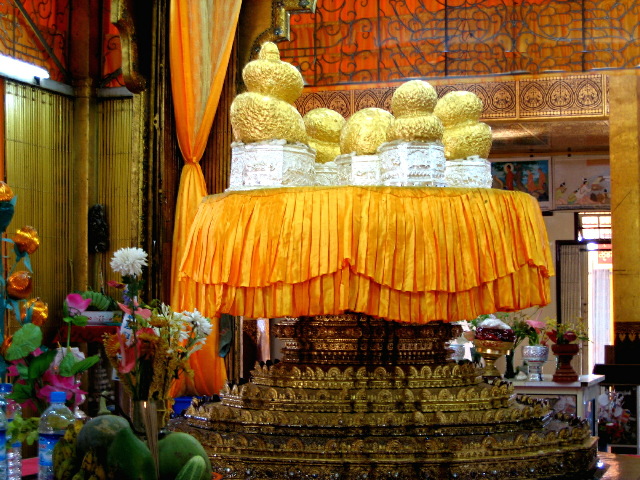 This early morning, you will arrive to Nyaung Shwe, the gateway village to Inle Lake. Along the way, visit the wooden Shwe Yan Pyay Monastery which features beautiful carvings and a collection of Buddha images.
Start with a visit to the Nyaung Shwe morning market where locals gather every morning to buy and sell fresh produce from the lake and its surroundings. Take a tour by local trishaw the bustling canal and watch the boats unload their produce for distribution to markets around the country. Visit the 'tomato house', a warehouse where produce is sorted and priced for sale. Upon reaching the edges of Inle Lake, board a private motorboat for a river cruise past Intha villages built on stilts over the lake and floating garden. Also, observe the leg-rowing fishermen.
Visit Phaung Daw Oo Pagoda, the lake's main sanctuary, housing five sacred Buddha images covered too much in gold leaf and make the Buddha Images to disappear its, original shape and form instead become look like a big chunk of Golden Mushroom. Then return to land for your overnight stay.
Overnight in Nyaung Shwe
Day 4: Inle Lake - In Dein - Inle Lake, night bus to Bagan (B, L , D)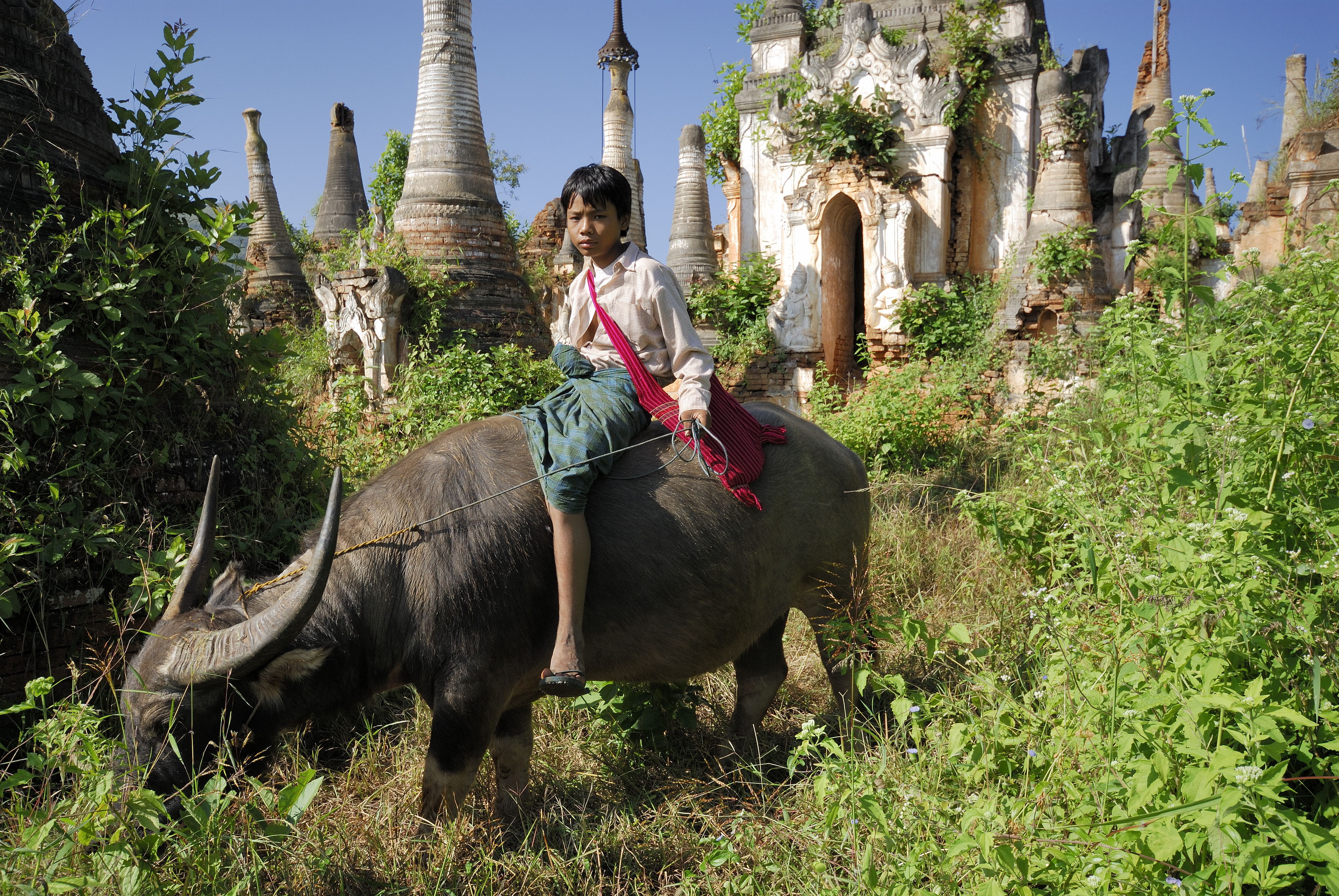 After check out from your hotel, begin visit the lake's morning market. The market rotates around the lake so as to be accessible to lake inhabitants and surrounding hill tribes who come to sell and trade their wares. (Note: market is daily except on dark moon day and full moon day).
From the middle of the lake, continue to the Pa-oh village of In Dein.  Stroll through the village, visiting a local school and the beautiful Alaung Sitthou area.  Here you can climb the covered stairway to the top of a hill which is covered with ancient stupas and has magnificent views of the lake. After enjoying your visit to In Dein, return to your boat. Continue along the lake for additional sightseeing before driving to Nyaung Shwe Express Gate for the bus to Bagan.
Overnight on bus
Day 5: Arrival Bagan & Sightseeing (B / L/ D)
You will arrive Bagan in this early morning, and transfer to your hotel. After a short rest, begins with a visit to one of the temple, that offers a spectacular views of the surrounding plains and the most revered temples in Bagan.
Afterwards, visit to Thagyar Pone Temple, a temple with spectacular views of the surrounding plains and Ananda Temple, one of the most revered temples in Bagan. Afterwards, you will explore Myinkaba Village by walking around to experience the local lifestyle and Gubyaukgyi Temple. Marvel at its beautiful mural paintings on the interior walls and well-preserved plaster carvings on the exterior.
Nearby is Manuha Temple donated by the captured King Manuha and its Prison Nan Paya Temple, smaller temples with unique Buddha statues and stone work.
Overnight in Bagan
Day 6: Bagan Free day ( B, L, D )
Today we offer three excursions from which to choose depending on your interest.
Swe Daw La Su Legendary Tour: Discover one of Bagan's most famous legends of King Anawrahta and his white elephant. By boat, car and jeep visit the four sites at which the elephant stopped will learning about local Burmese life in the rural villages.  USD 91 per person (minimum 2pax)
Excursion to Mount Popa & Salay: Begin with a drive to Chauk peruses the morning market, filled with locals buying and selling their goods. Continue on to the village of Salay, an important Buddhist centre, and visit its famed wooden monastery with intricate carvings. The travel to Mount Popa, an extinct volcano is believed to be home to the 'nats', ancient Burmese animist spirits.  Climb to the top for stunning views of the surrounding countryside before descending down to Bagan. (Note: Salay monastery museum closed on Mondays, Tuesdays and public holidays)  USD 68 per person (minimum 2pax)
Biking & Community Tour: Experience rural Myanmar by bike. Pedal past temples and villages, stopping to enjoy tea and chat with the locals. On the way, it is also possible to visit a monastery to learn the buddhist way of life.  After lunch at your own account in a local curry house, continue to Nyaung U to see the production of pea paste powder and plum jam and watch craftsmen at work. USD 51 per person (minimum 2pax)
Overnight  in Bagan
Day 7: Arrival Mandalay & Sightseeing (B /L/D)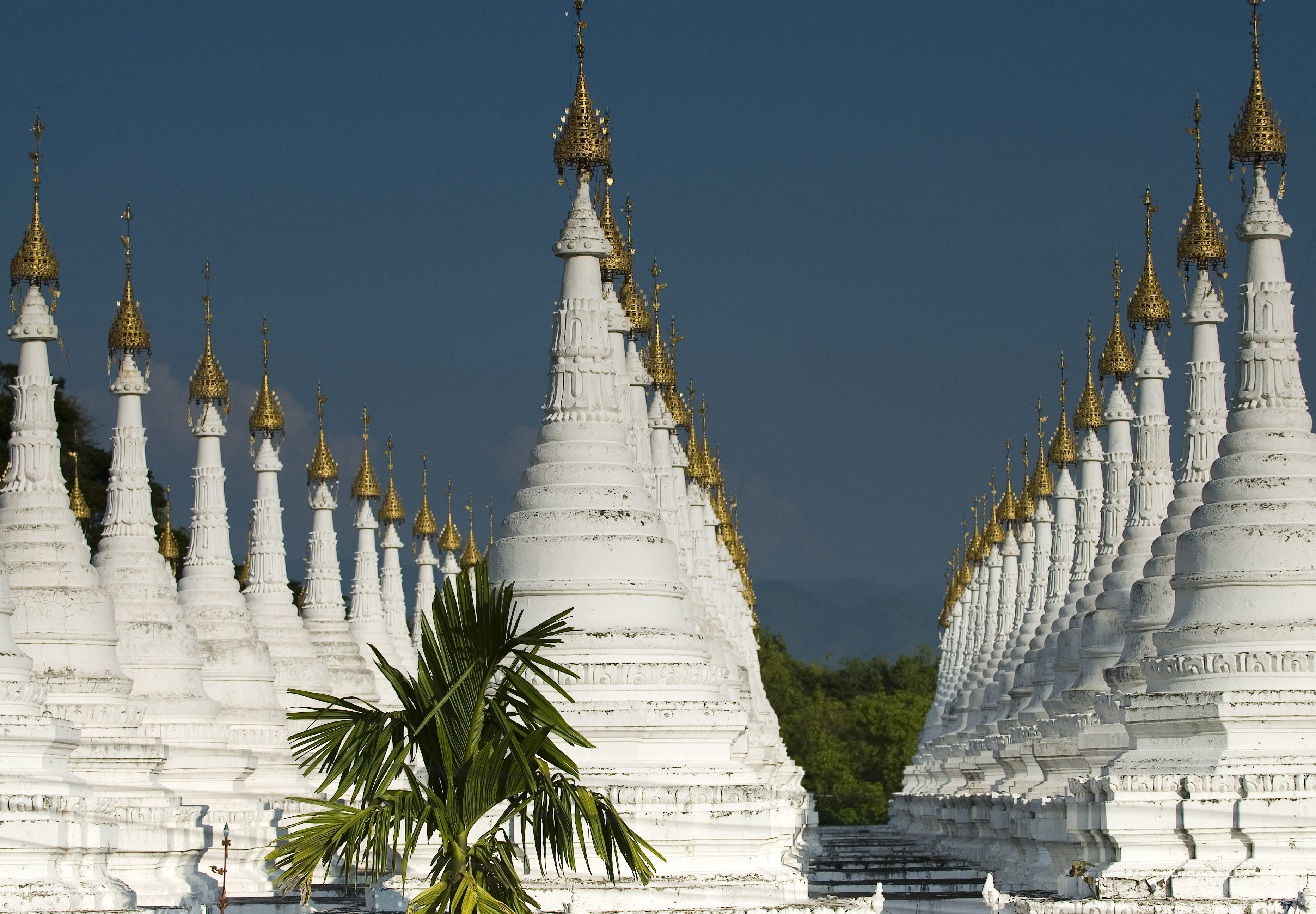 This late afternoon, you will arrive Mandalay. Upon arrival, you will be transferred to your hotel and have a chance to freshen up. After taking some rest, start a visit to Shwe Nandaw Kyuang, noted for its intricate wood carvings and Kyauk Taw Gyi Pagoda, home to a huge marble Buddha. Continue to visit Kuthodaw Pagoda, considered 'the world's largest book', housing a collection of more than 700 marble slabs inscribed with Buddhist teachings. If time allows, proceed to Mahamuni Pagoda. Then, climb to the top of Mandalay Hill to watch the sunset.
 Day 8: Mandalay – Ava – Sagaing – Amarapura – Mandalay (B/-/-)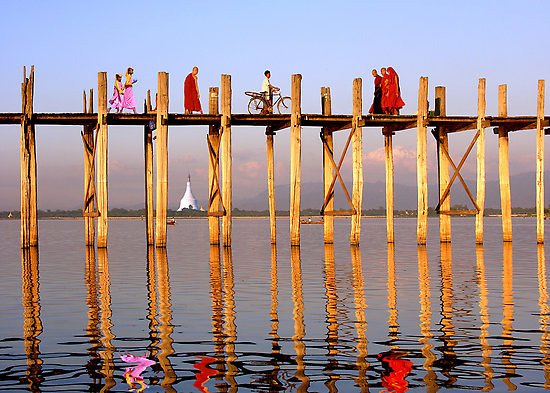 Today journey begins with a visit to Mahagandayon monastery, home to over one thousand monks. (Note: if you would like to go at the time of almsful, you need to go at 5:00am). Then, depart for an excursion around Mandalay to explore the former capitals of Ava, Sagaing and Amarapura.
This morning, drive to Ava, the capital from 14th to 18th centuries. Bikes are the best way to tour Ava's beautiful ancient capital, an area rich in history and light on traffic. Shady trees and flat cycling make a great tour route, riding through small communities and picturesque ruins. Visit the old wooden Bagaya Monastery and the remains of the Royal Palace and Fort. There are many small villages located amid Ava's ruins and as you travel by horse and cart you'll get a glimpse of local life in the Burmese countryside. Then cross a bridge over the Irrawaddy River to Sagaing, the religious center of Myanmar. Covered with 600 white-painted pagodas and monasteries, it is home to 3,000 monks and 100 meditation centers. You will visit pagodas such as Swan Oo Pon Nya Shin and U Min Thone Sae. You'll also visit Sagaing's market, for a range of items for sale including locally made pottery, silver and other handicrafts. We will also stop at a small pottery village to see the process of making the water pots found throughout Myanmar Return toward the city and stop at Amarapura, the 'City of Immortality'. Visit a silk weaving workshop which produces exquisite handmade products and continue on for a stroll across the 200 year old, teak U Bein Bridge. 1.2 kilometers in length, it is the world's longest teak span.
Overnight in Mandalay
Day 9: Depart Mandalay (B/L/D)
Today, depending on your flight time, you will transfer to Mandalay International Airport for your own forward flight.
***END OF SERVICES*** 
What is included in the tour
8 Nights accommodation with breakfast on double/twin occupancy (Single supplement varies)
Private transfer with air-conditioned as specified in the itinerary
Meals (lunch and dinners) at local restaurants
All entrance fees to the sites mentioned in the itinerary
Express Night Bus Tickets and Kyauk Gu U Min
English speaking station guide
Refreshment
Porter fees at airport and jetty 
What is NOT included in the tour
Visa to Myanmar
International airfares
Meals, if not otherwise mentioned
Early check in and late check out              
Separate arrival/departure transfer
Personal expenses (laundry, beverages, phone bill, camera fee...)
Travel insurance
Tips
Any additional expenses caused by reasons beyond our control such as natural calamities (eg. typhoon, floods), flight   delays, rescheduling or cancellations, any accidents, medical evacuations, riots, strikes etc
Any extra surcharges or fees (e.g. peak season, historical sites, camera/video fees etc)