Myanmar was once known as Burma and so we name this tour as "The Grand Burma Tour". This 14 days luxury tour will take you through all the famous or highlight destinations of Myanmar such as Yangon, Inle Lake, Mandalay, Bagan and the Ngapali beach with luxury options of transportation and activities in between. You will also be enjoy luxury cruise in between Mandalay and Bagan and will be ending with refreshing beach stay. 
13 Days
Available on request
Yangon International Airport
Highlights
What makes this tour special
Explore the colonial downtown Yangon
Feel the privilege of luxury service around the trip
Enjoy fascinating boat ride on the Inle lake and learn the lives of locals and hill tribes
Be amazed by the ancient and detail structure of temples in Mandalay
Relax on the luxury cruise on the Ayarwaddy River
Enjoy breathtaking view of Bagan Plain from the Balloon
Savor the sandbank dinner on the river bank in Bagan
Relax and refresh on the white sand beach of Ngapali
Day 1: Yangon Arrival ( -, -, D)
Upon arrival at Yangon International Airport, your guide will greet you and you will be transferred to an elegant hotel by an elegant ancient bus. The rest of the day at leisure.
Welcome Dinner at the Hotel
Overnight in Yangon
(Your hotel room is available from about 14:00 available. Your luggage may already be parked in the hotel and is a former reference of rooms subject to availability on arrival.)
Day 2: Yangon (B, -, - )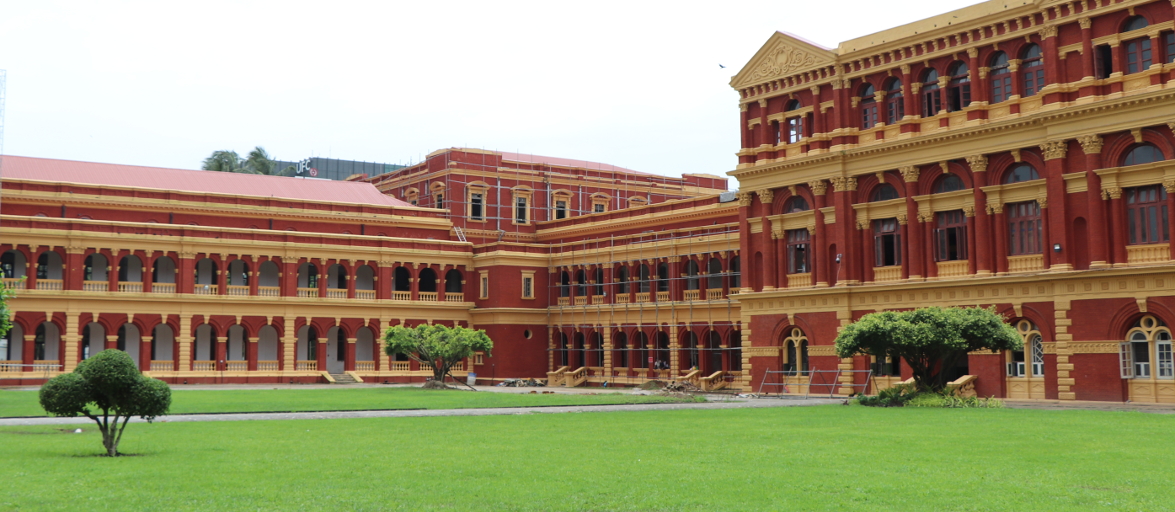 After breakfast at your hotel, begin your tour with an exploration of the city on foot and by car. Pass faded colonial buildings such as the former Colonial Administrative office of Secretariat belong to 1905, where the General Aung San and his 6 Cabinet Ministers were assassinated in 1947,City Hall and  The High Court in1911as well as Mahabandoola Park and Sule Pagoda. Enjoy a cup of tea or coffee at a Let Ywae Sin Tea Shop. Continue to Bogyoke Market to peruse the wide selection of local handicrafts and other goods (Note: closed on Mondays and public holidays) before transferring back to the hotel. You will have a fun opportunity to meet with a local astrologer who use Burmese star charts will tell your future. At midday take a break for lunch (At your own account) and return to your hotel for a short rest. This afternoon, you will board the elegant and comfortable 'Burma Bus'(Only 6 Hrs used). Travel to Kyaukhtatgyi Pagoda, home to a 70-meter long reclining Buddha. A visit to Kyaukhtatgyi provides a great overview of Buddhism, the feet of the statue carved with traditional symbols and many locals gathering to pay homage and pray. Continue to KandawGyi Park or Dalhousie Park since 1856, to see Karaweik barge, a replica of the royal barge, and the vastlake. Next, visit Shwedagon Pagoda the most revered Buddhist temple in Myanmar. Join the locals at the base of the pagoda in lighting hundreds of small oil lamps. This is a very special ceremony held at dusk.
Overnight in Yangon
Day 3: Yangon – Heho – Inle Lake ( B, L ,D )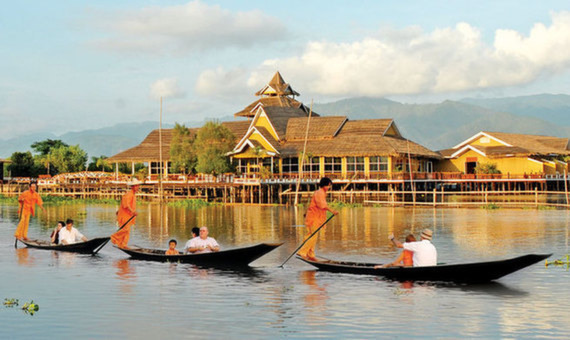 This morning, transfer to Yangon Airport for your flight to Heho. Here you will enjoy a one-hour scenic drive to Nyaung Shwe, the gateway village to the lovely Inle Lake. Enjoy lunch at Viewpoint Restaurant, for the best Shan food in Myanmar. Then a private luxury motorboat will escort you to the luxurious Inle Princess Hotel for check in. Along the way, pass stilted villages, the leg-rowing Intha fishermen, and floating gardens anchored to the lake's bottom with bamboo poles. Check in to your hotel, a resort nestled near the lake's shores. Your stilted bungalow offers spectacular views from the balcony.
Dinner at the Wine Cellar
Overnight in Inle Lake
Day 4: Inle Lake (B, L , - )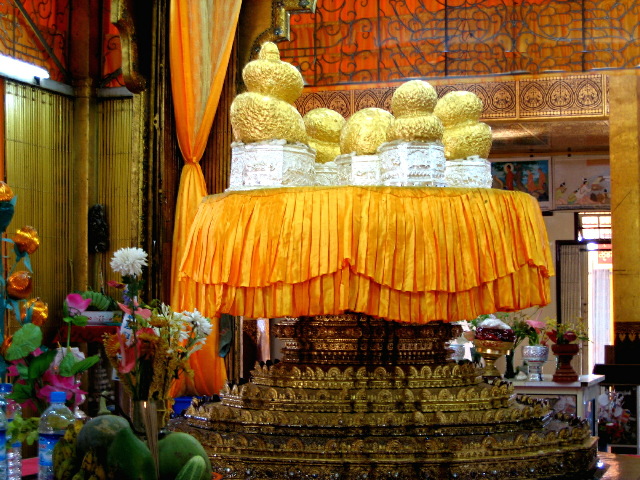 Spend a day on the lake exploring the sites and villages by private sound proof boat. Visit Phaung Daw Oo Pagoda, the lake's main sanctuary, housing 5 sacred Buddha images. Continue to the village of Inpawkhone to observe the traditional silk weaving techniques of Inthar people and visit a cheroot factory see Burmese cigars are rolled by hand. For lunch, enjoy a unique opportunity to cook with a local Inthar family in their stilted house on the lake. Assist in the kitchen as you cook an array of delicious, traditional dishes. Then sit on the floor, local-style, in the dining room of the house and enjoy your freshly prepared lunch. Afterwards re-board your boat and return to the hotel, arriving in the late afternoon. A romantic sunset canoe ride near the lake shores this evening is the perfect way to end the day. You'll be served drinks as your boat, steered by an Inthar leg-rower, winds its way around a quiet section of the lake.
Overnight in Inle Lake
Day 5: Inle Lake – Heho – Mandalay ( B, -, - )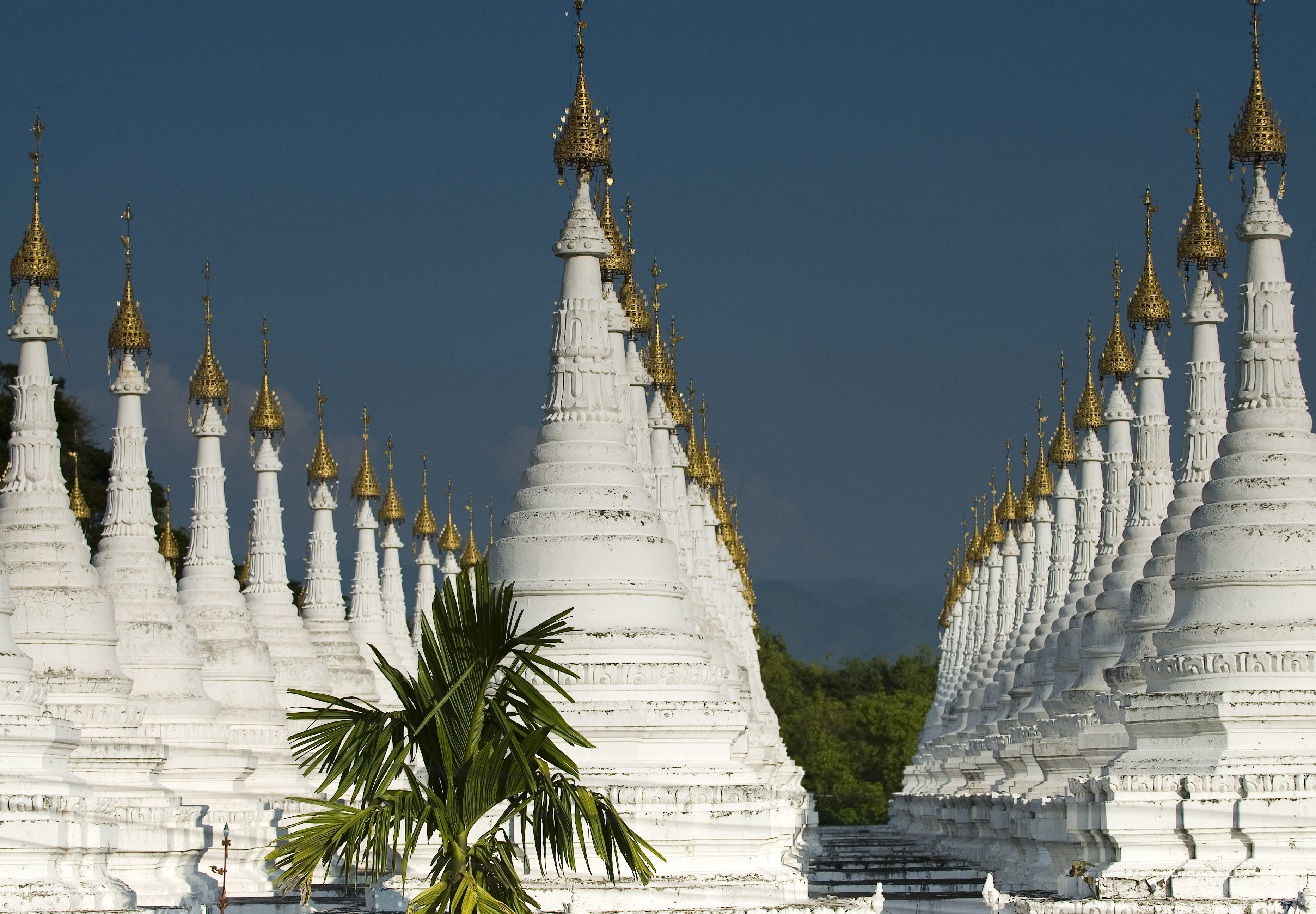 Today you will transfer to Heho Airport for the flight to Mandalay. Upon arrival in Mandalay transfer to your hotel and you take rest for a while. In the afternoon, start your tour with a visit to the top of Mandalay Hill, rising 240 metres above the city. This is an excellent opportunity for a grand overview of Mandalay. At the base of the hill, stop to visit Shwe Nandaw Kyuang, noted for its intricate wood carvings and Kayuk Taw Gyi Pagoda, home to a huge marble Buddha. Finally, visit Kuthodaw Pagoda, considered 'the world's largest book', housing a collection of more than 700 marble slabs inscribed with Buddhist teachings. Then back to your hotel.
Overnight in Mandalay
Day 6: Mandalay ( B, -, - )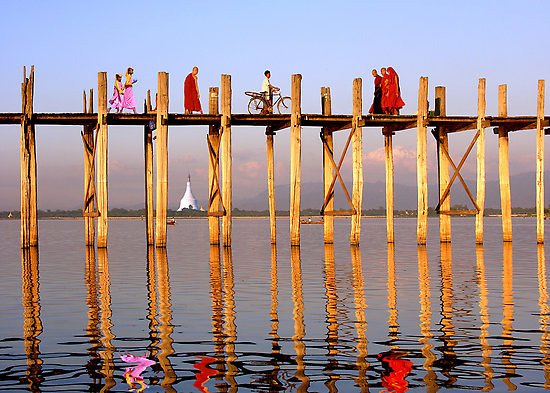 After breakfast at the hotel, depart for an excursion around Mandalay to explore the former capitals of Ava, Sagaing and Amarapura. This morning, drive to Ava, the capital from 14th to 18th centuries, where a short ferry ride will take you across the river for a horse and carriage tour. Visit the old wooden Bagaya Monastery and the remains of the Royal Palace and Fort. There are many small villages located amid Ava's ruins and as you travel by horse and cart you'll get a glimpse of local life in the Burmese countryside. Then cross a bridge over the Irrawaddy River to Sagaing, the religious center of Myanmar. Covered with 600 white-painted pagodas and monasteries, it is home to 3,000 monks and 100 meditation centers. You will visit pagodas such as Swan Oo Pon Nya Shin and U Min Thone Sae. You'll also visit Sagaing's market, for a range of items for sale including locally made pottery, silver and other handicrafts. We will also stop at a small pottery village to see the process of making the water pots found throughout Myanmar Return toward the city and stop at Amarapura, the 'City of Immortality'. Visit a silk weaving workshop which produces exquisite handmade products and Mahagandayon monastery, home to over one thousand monks. Then, continue on for a stroll across the 200 year old, teak U Bein Bridge. 1.2 kilometers in length, it is the world's longest teak span.
Overnight in Mandalay
Day 7: Mandalay – Bagan (B , - , -)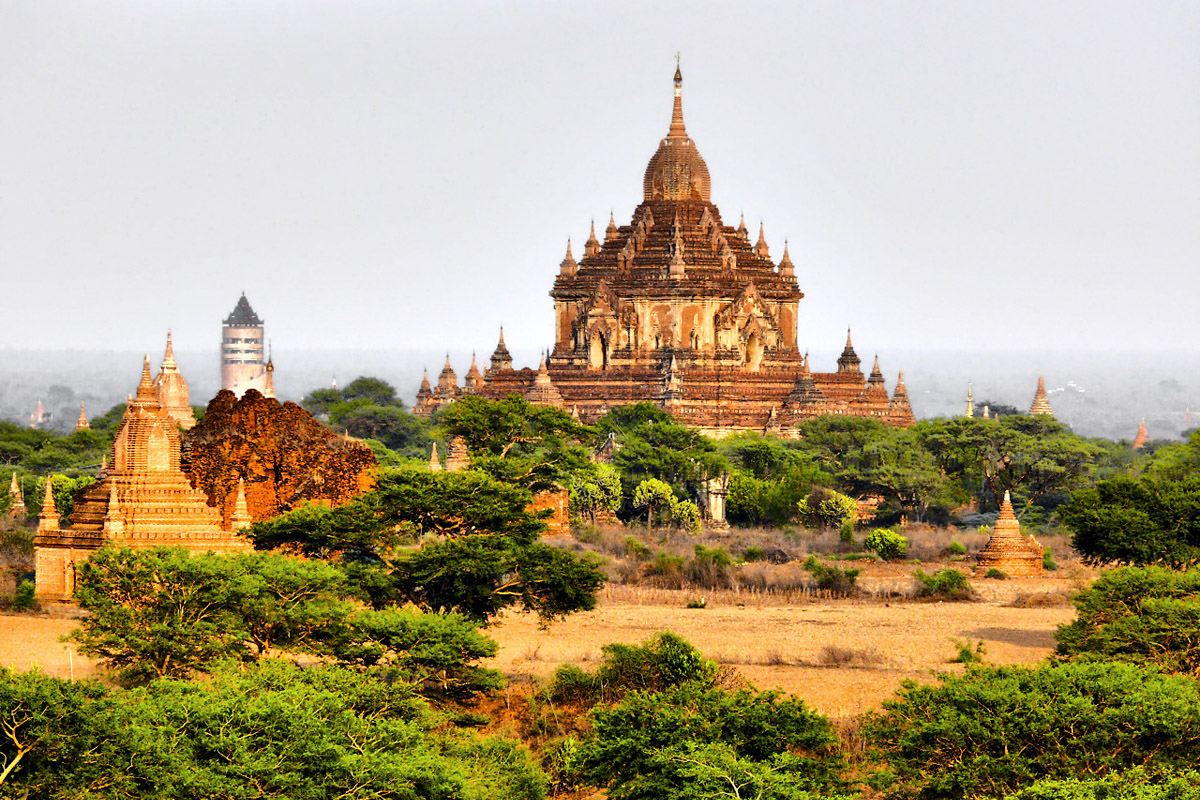 After breakfast at hotel this morning, you will be dropped off at the Mandalay airport for your flight to Bagan. Upon your arrival in Bagan, transfer to hotel and take some rest. Afterwards, your exploration begins with a visit to Thagyar Pone Temple, a temple with spectacular Next continue to Ananda Temple, one of the most revered temples in Bagan. Afterwards travel to Myinkaba Village to see the life style of locals and visit Gubyaukgyi Temple which is noted for its beautiful mural paintings on the interior walls and well-preserved plaster carvings on the exterior. Nearby is Manuha Temple donated by the King Manuha who was the owner of Buddhist Scripture for which he was declared to the war and finally captured by the founder of Bagan King Anawrahta and the prison for the king Manuha called Nan Paya Temple, two smaller temples with Buddha statues and stone work. Take a break for lunch (own account) and return to your hotel for a short rest, escaping the extreme heat of the midday sun. This afternoon, visit a monastery to receive a special blessing by the local monks. Visit a lacquer ware shop and watch as local craftsmen make beautiful house wares using centuries old techniques.
Overnight in Bagan
Day 8: Bagan ( B, -, D)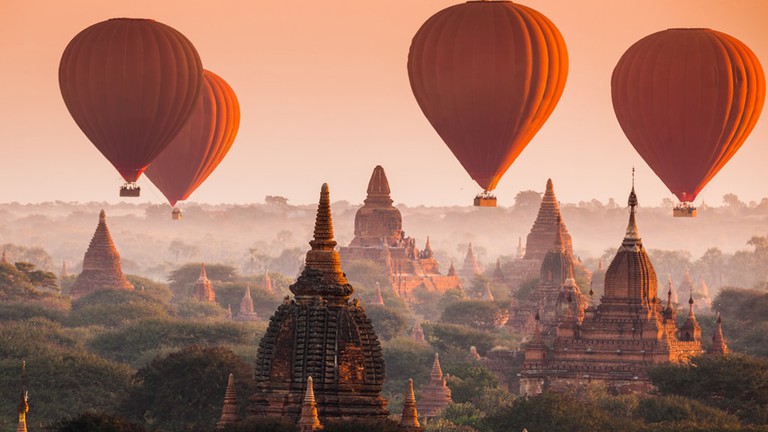 Begin your morning with an overview of the city on a grand scale with a hot-air balloon flight over the plains of Bagan. Enjoy the fabulous views as the sun rises over the stupas and Irrawaddy River. This is truly an unforgettable and unique experience! (Note: available only from October to March)
Then visit the golden stupa of Shwezigon Pagoda for an introduction in to Bagan's rich history. Along with Wetkyi-In Gubyaukgyi, a cave temple exists with exquisite jataka mural paintings. Using flashlights, explore KyanSitthar Cave temple- walking through the tunnel-like corridors and viewing the fading paintings on the ceiling. A customized program, based on your interests, will be developed by your guide for the remainder of the day. An exclusive dinner this evening is sure to be a highlight of your holiday in Myanmar. Transfer to the riverbank and continue by boat to a sandbank in the middle of the Irrwaddy River where a table with traditional Burmese decor and romantic lighting is set up. Relax with a cocktail and then feast on freshly prepared, delicious cuisine on your private sandbank.
Sandbank Dinner
Overnight in Bagan
Day 9: Bagan – Thandwe – Ngapali Beach (B, - , - )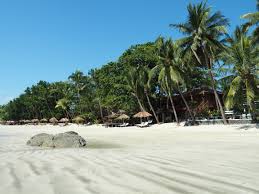 This morning is at your leisure until transferring to the Nyaung U Airport for your flight to Thandwe Airport. Upon arriving at Thandwe Airport, you will be greeted and transferred to Ngapali Beach, a 20 minute drive. Ngapali Beach is a quiet 3-kilometer stretch of white sands lined by coconut palms. The warm, clear waters are perfect for water sports such as snorkeling and there are several small islands around which can be reached by boat which you can arrange at hotel easily.
Overnight in Ngapali.
Days 10: Ngapali Beach (B,- , - )
Enjoy full days at leisure in Ngapali. Daily breakfast is served and there are options for snorkeling, boat trips or bike rides.
Overnight in Ngapali
Day 11: Ngapali Beach (B, - , D)
Enjoy leisure at the beach.
Farewell Dinner at the beach
Overnight in Ngapali
Day 12: Ngapali Beach – Thandwe – Yangon (B, - ,-)
Spend the morning on the beach before departing to Thandwe airport for your afternoon flight to Yangon. Upon arrival, transfer to check in your hotel and take some rest. Before driving for your dinner out, you will visit to some of Yangon's best art galleries and antique shops. Then, enjoy a traditional, relaxing massage and one of the city's best spas. Afterwards, drive to the restaurant of your choice for dinner or back directly to hotel.
Overnight in Yangon
Day 13: Yangon Departure (B, -, - )
Today is free at leisure until being transferred to the airport for your departure flight.
(Your hotel room is available until 12:00. If you are departing later, you can ask the hotel to keep the luggages. A late check-out is possible upon availability with some charge.)
What is included in the tour
• accommodationinc. breakfast (B)
• other meals as detailed in the itinerary (L=lunch, D=dinner)
• local specialized tour guide (English-speaking, other languages available on request)
• all transfers
• boat tours and air-conditioned car/van transportation as detailed in the itinerary
• domestic flights as detailed in the itinerary, economy class (20 kg luggage per person)
• sightseeing as detailed in the itinerary inc. entrance fees
• Balloon over Bagan flight
• exclusive bus for halfday sightseeing in Yangon and exclusive boat on the inle lake
What is NOT included in the tour
• international flights from and to your country of origin
• travel insurance
• meals other than those explicitly mentioned, drinks, tips and personal expenses
• visa fees