Detailed Itinerary
Day 1: Arrive Yangon (-, L, D)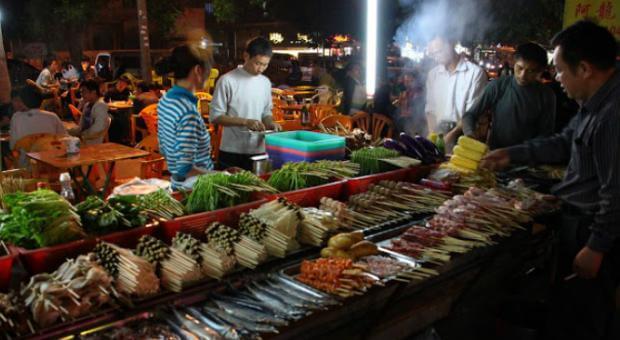 Upon arrival, you will be greeted by your guide and transferred to the hotel. After check in, you will visit city center and stroll around Mahabandoola Park's formerly known as Fitch Square since before 1895, colonial The High Court built in 1911, and the city hall built in 1936. Next, travel on foot around the down town with various historical buildings. Then you will have lunch at popular teashop to enjoy Burmese tea and its traditional culture brought to Myanmar by the British over one century ago. You may choose from a variety of traditional snacks and noodles. Some of the famous dishes are: Mont Pyar Tha Let (rice pancake), Mont LeitPyar (wanton-like parcels of bean and jaggery), ShweHtamin (Golden sticky rice), Mohingar (rice noodle with fish soup- Myanmar's 'national' dish) and Own Noe Khauk Swe (yellow noodle with chicken and coconut soup). After lunch, you will visit the Mawtin Jetty and witness the busy riverside activities on Yangon River. Peruse the daily market of fruits, sweets and other foodstuffs. Travel to Night Market for another market visit and sample traditional Chinese delicacies. Venture through the stalls selling everything from flowers to seafood, spices to fresh tofu. Then proceed to 19th Street which is a popular place to have draught Myanmar Beer, together with vegetable and meat sa-tays (BBQ), in the evening.  
Overnight in Yangon
(Your hotel room is available from about 2.00 pm available. Your luggage may already be parked in thehotel and is a former reference of rooms subject to availability on arrival.)
Day 2: Yangon – Bagan (B, L, D)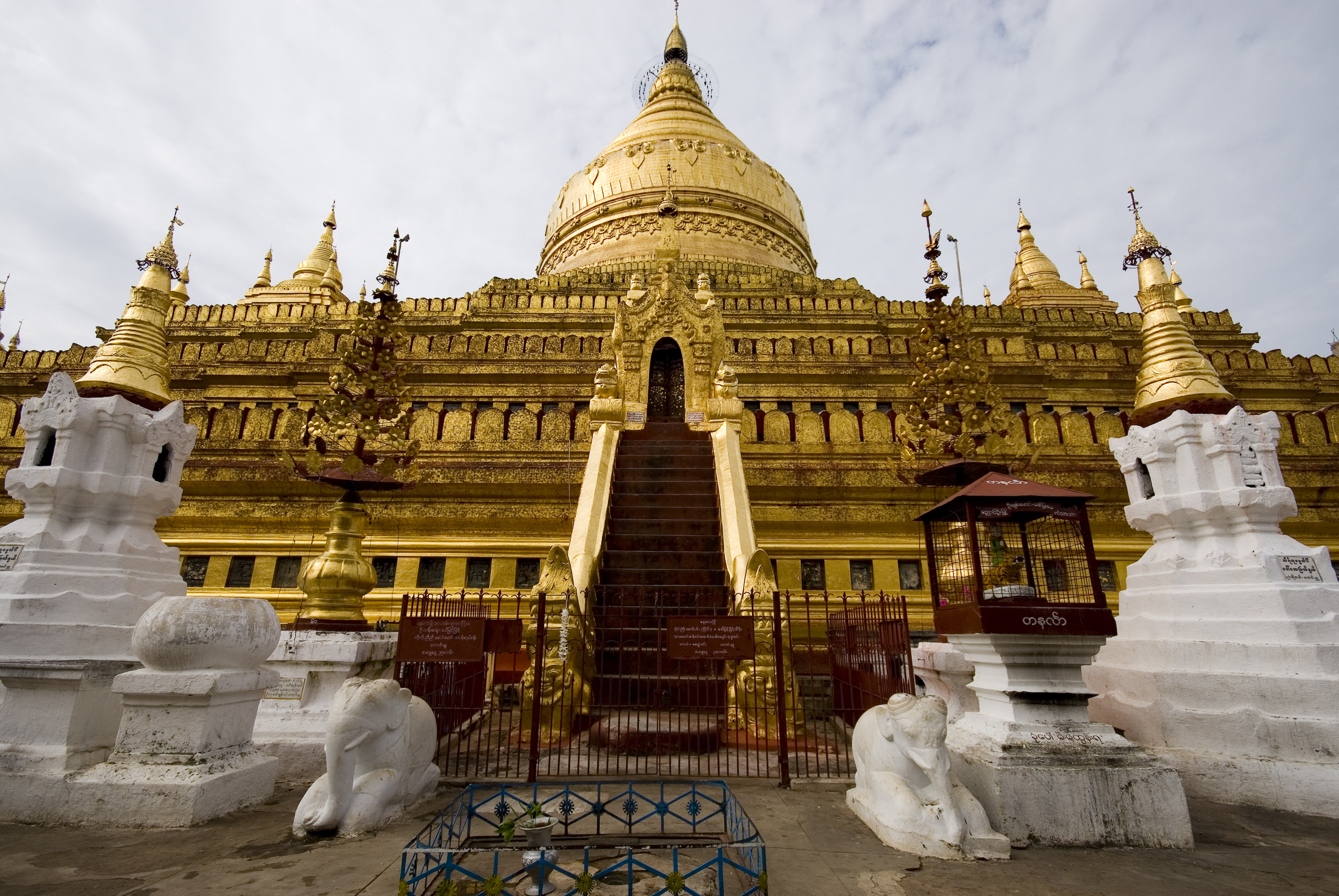 After breakfast at the hotel transfer to Yangon's Mingaladon Airport for the flight to Bagan. During the 11th to 13th centuries, Bagan was the capital of Myanmar. During this time thousands of ancient stupas and temples were constructed. This is one of Asia's most remarkable important sites. Many of these structures still stand today along the Irrawaddy River. You will begin your exploration with a visit to Shwezigon Pagoda, which is the prototype of the first Myanmar Stupa. Then visit Wetkyi-In Gubyaukgyi, a cave temple with exquisite jatakas murals paintings and the elegant Htilominlo Temple renowned for its fine plaster carvings and glazed sandstone decorations. Enjoy lunch at Burmese restaurant and sample local style curry. In the afternoon, visit Ananda, an architectural masterpiece of the early-style temple and AnandaOkkyaung is one of the few surviving brick monasteries from the early Bagan period and Thatbyinnyu, the highest temple to represent the Ultimate Omniscient Wisdom of Buddha. From Thatbyinnyu, travel by horse carriage tour through the traditional village of Taungbi to see the lifestyle of locals, Sulamani Temple and the massive Dhammayangyi Temple noted for its remarkable brickwork. Enjoy the sunset over the site from one of the open upper terraces of a temple. Then you will be taken to Local Restaurant for your dinner.
Overnight in Bagan
Day 3: Bagan (B, L, -)
Optional Touring Begin your morning with an overview of the city on a grand scale with a hot-air balloon flight over the plains of Bagan. Enjoy the fabulous views as the sun rises over the stupas and Irrawaddy River. This is truly an unforgettable and unique experience! (Note: available only from October to March)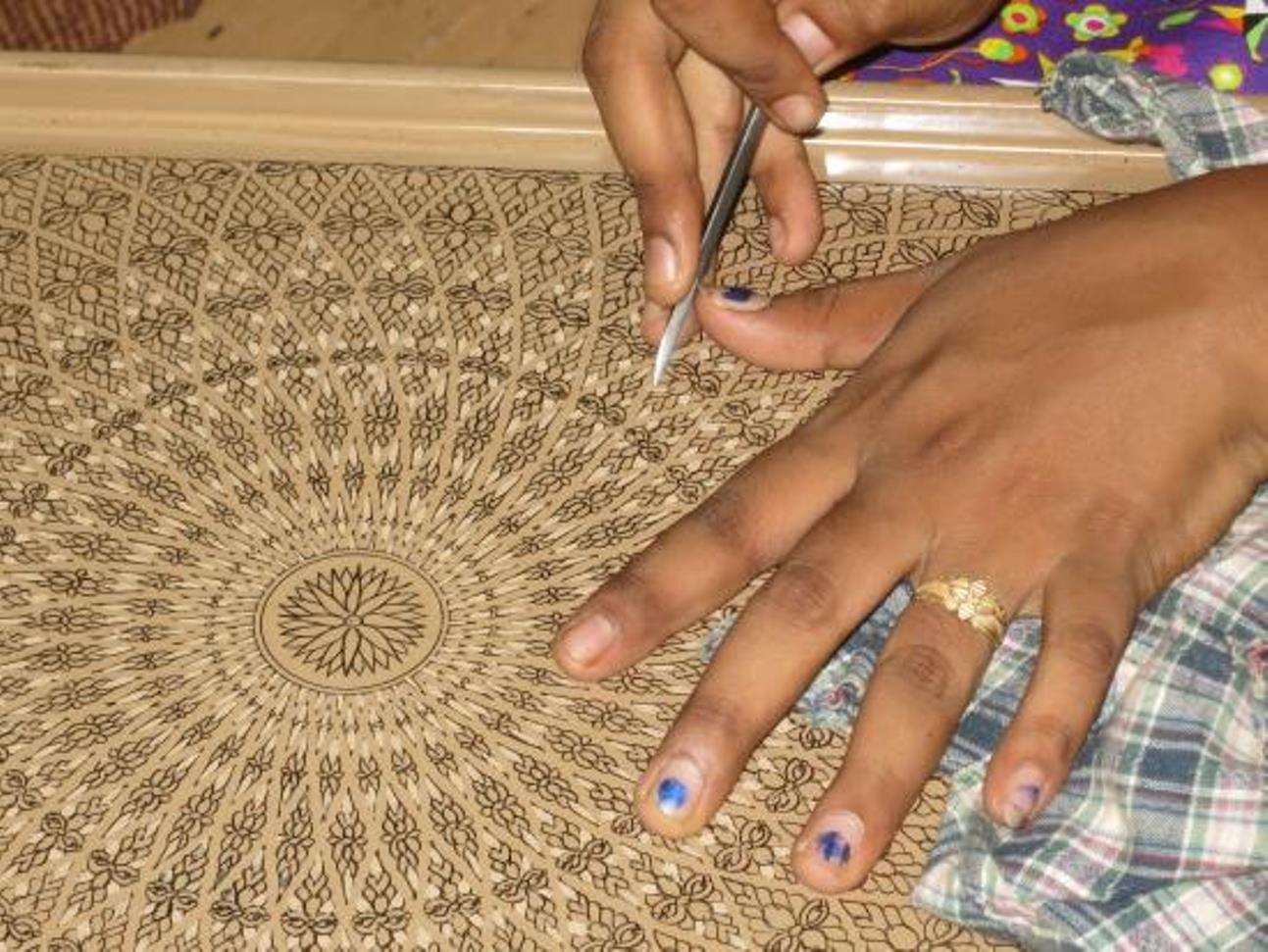 After breakfast at the hotel, visit the vibrant Nyaung Oo Market. Enjoy this immersion into local life as villagers from the surrounding areas sell their goods and produce. Next, visit a Pone Yay Gyi (Bean Paste) shop and witness the production of Bagan's most famous treat. You will also travel to a Pe Chaung (Fried Ground Bean Strip) shop for the production of Pe Chaung from the gram bean. Travel out of Bagan to the toddy palm fields and observe these farmers as the go about their daily business, collecting the toddy juice and processing it into molasses, alcohol and other products. Enjoy a village lunch prepared by the toddy farmer's family. This afternoon, return to Bagan for a visit to a lacquer ware house and witness the skills of artists who draw decorative figures and patterns by free hand. Then you will drive to Irrawaddy River which is the Life Stream of Myanmar and the largest one out of four Rivers, You can have a boat ride along this famous river. From the water enjoy magnificent views of the temples and riverside villages as the sun begins to set. This evening feel free to have dinner at your convenience.
Overnight in Bagan
Day 4: Bagan – Mandalay (B, L, -)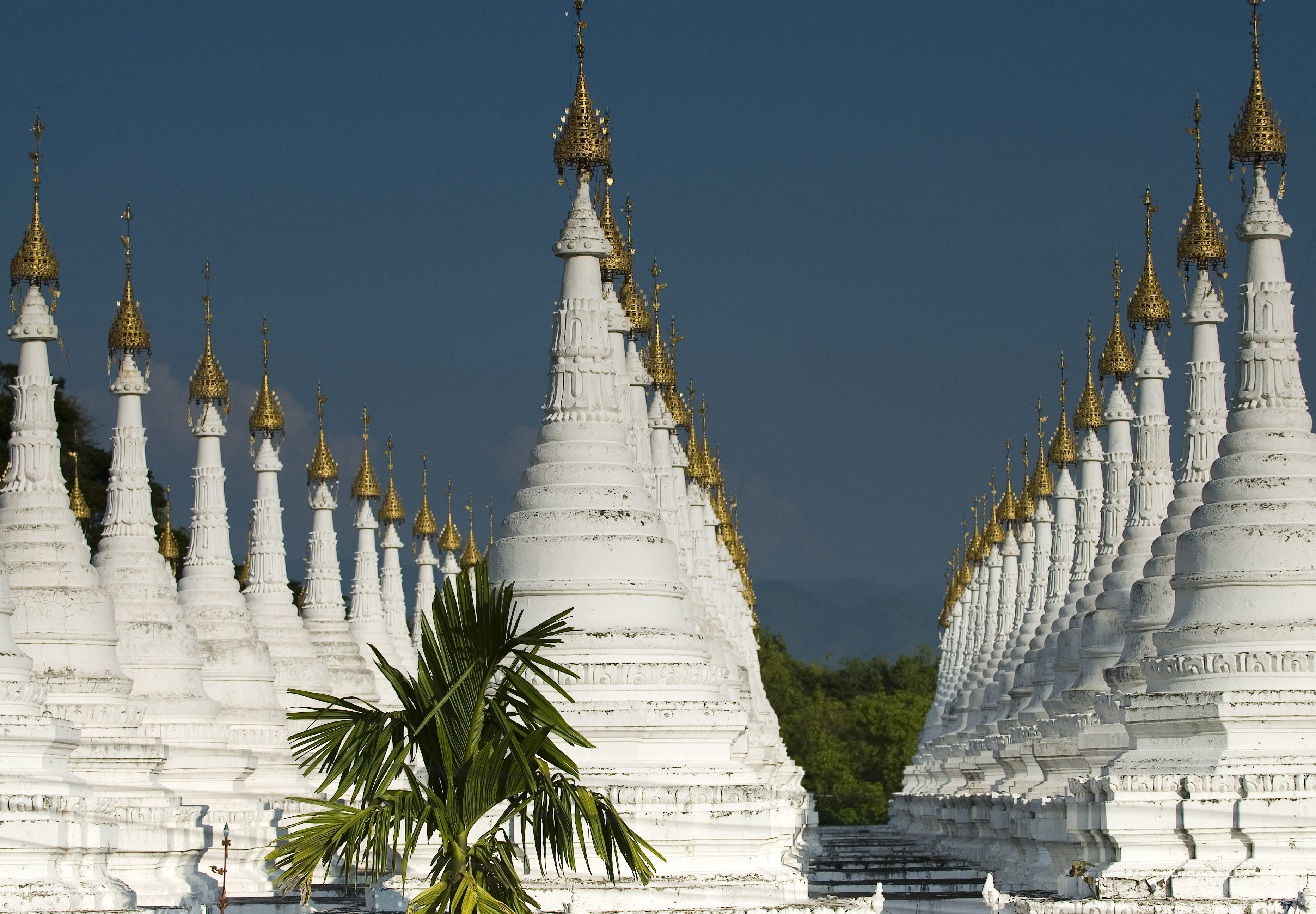 After breakfast at the hotel transfer to Nyaung Oo Airport for the flight to Mandalay, Myanmar's cultural center as well as the 2nd biggest commercial capital of Myanmar. Upon arrival, begin at the Mahamuni Pagoda, famous for its gold leaf Buddha statue. Mandalay is renowned for its skilled craftsmen, traditional workshops and watch as crafts such as marble masonry, Kalaga tapestry and gold leaf making. Enjoy the unique Burmese culinary treat: Le PhetThoke, a local salad made from seasoned tea leaves. For lunch, dine at Min Thiha tea shop, serving two of the city's most famous dishes: Mandalay Monti and Khotaung  Monti. As you dine, watch the vibrant local life in the teashop. In the afternoon, visit the Kuthodaw Pagoda, known as the largest book in the world. The Pagoda houses 729 marble stone slabs of Buddhist scriptures. You will also visit Shwenandaw Monastery, noted for its exquisite woodcarving in Teak, witnessing the durability of Teak. Enjoy the sunset from Mandalay Hill to end the day. This evening is free at your leisure. Stroll through the night market and sample local barbeque and salad. Or visit the famous 'chapatti corner' where tourists and locals gather to dine on mutton curry, biriyani and chapattis.
Overnight in Mandalay
Day 5: Mandalay – Heho – Inle Lake (B, L, -)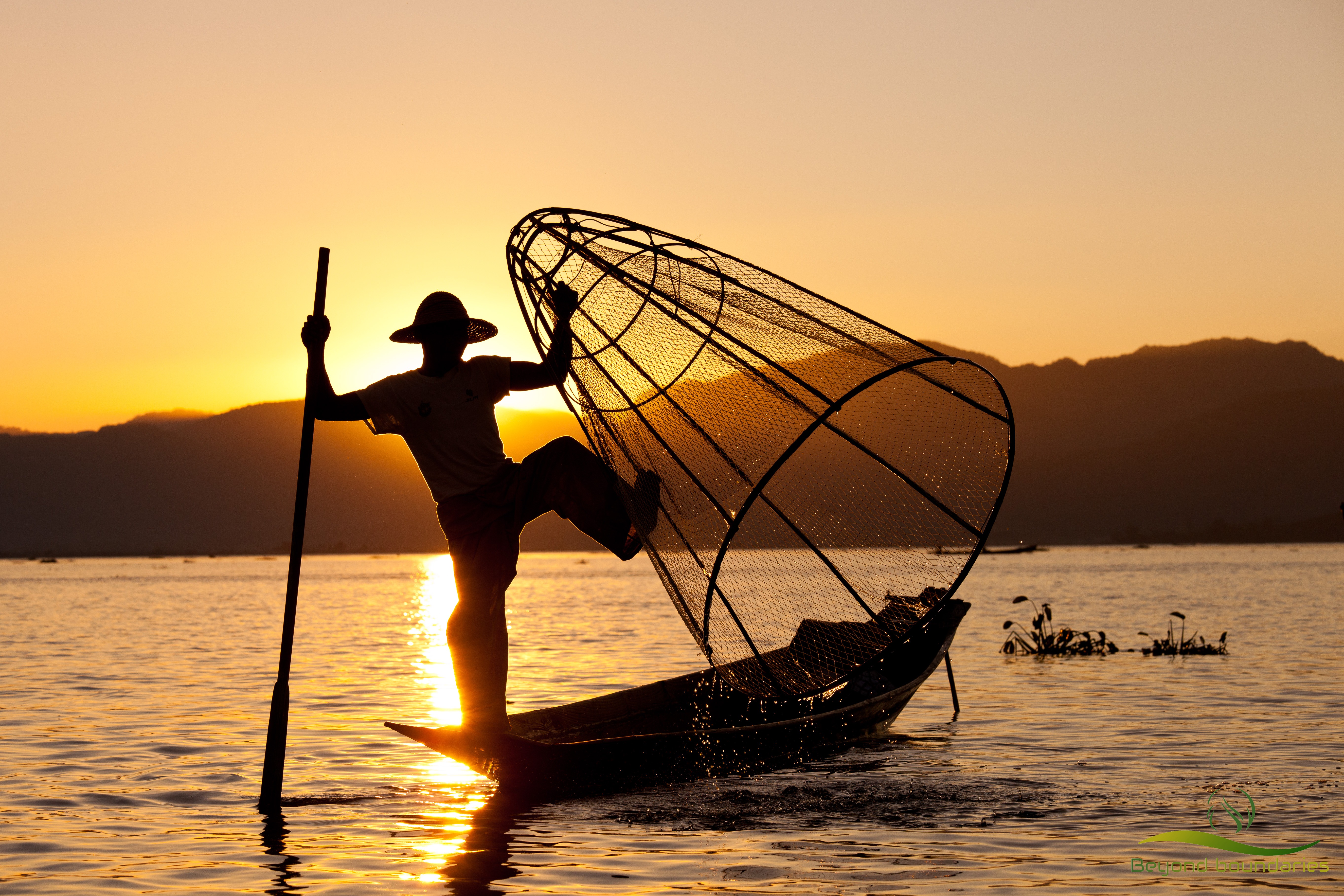 This morning, you will be transferred to the airport for your flight to Heho. From Heho a 1-hour scenic drive leads to Nyaung Shwe, on the Inle Lake. Start with a visit to the Nyaung Shwe morning market where locals gather every morning to buy and sell fresh produce from the lake and its surroundings. Take a tour by local trishaw the bustling canal and watch the boats unload their produce for distribution to markets around the country. Visit the 'tomato house', a warehouse where produce is sorted and priced for sale. Continue to the jetty and board a private motorboat for a cruise on Inle Lake. Pass Intha villages built on stilts over the lake and the floating gardens. Visit a floating tomato garden to learn about this unique concept. Next, proceed to a Inthar House at Tharlay village where you will help the family prepare lunch including Inle Style Tomato Salad. Take this opportunity to learn about their cuisine and culture. Enjoy lunch on the floor, at a low table, with the family. This afternoon, visit Phaung Daw Oo Pagoda, the lake's main sanctuary, housing five sacred Buddha images covered in gold leaf and the thickness of Gold makes the shape of Buddha to disappear and become look like a lump of Mushroom. Explore the local crafts of Inle Lake with a stop at the weaving village of Inpawkhone and a cheroot factory, to see Burmese cigars are rolled by hand.
Overnight at Inle Lake
Day 6: Inle Lake – Heho – Yangon (B, L, -)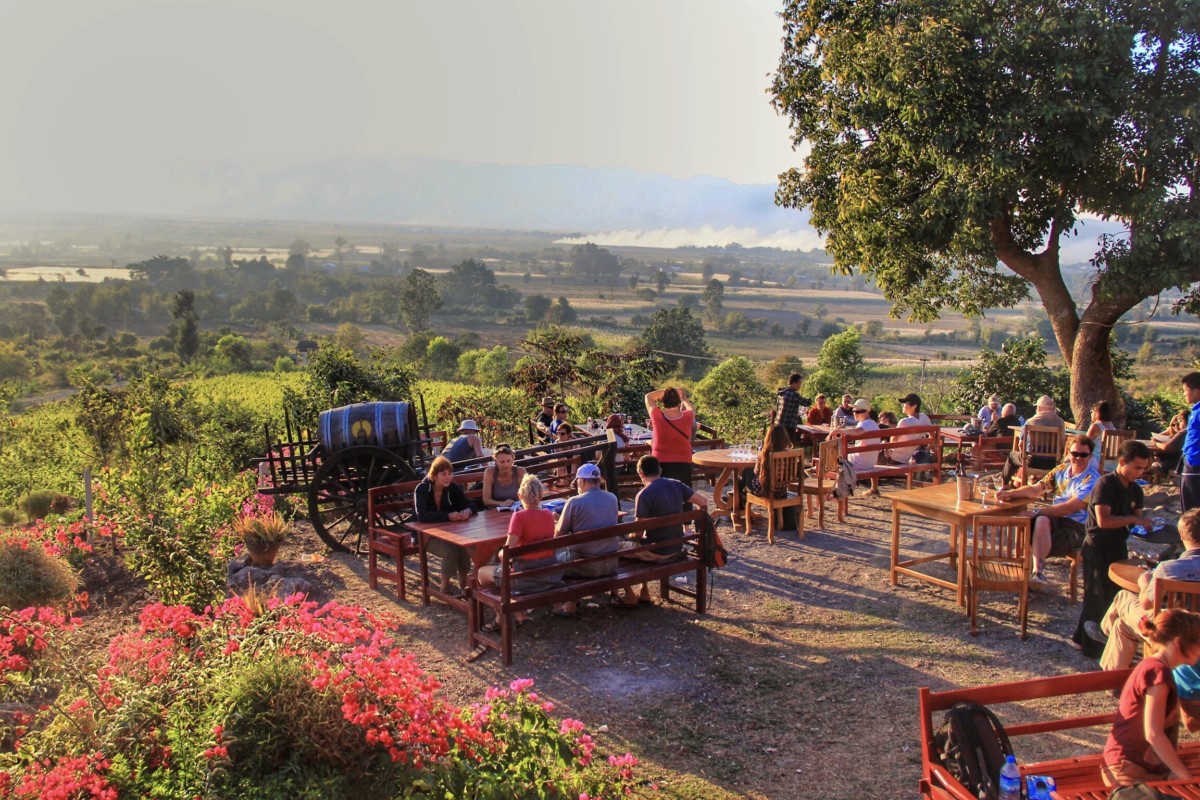 After breakfast, visit the daily market on the lake, which rotates around the lake. After visiting the market, continue by boat to Khaung Daing village, famous for its traditional Shan tofu – Watch as they sift, boil and mash soy beans into tofu cakes left to dry in the sun. Proceed to Nyaung Shwe and visit Red Mountain Estate Vineyards and Winery. Tour the vineyard and enjoy views of Inle Lake and its stilt villages as you sample wines in an open air bar. Return to Nyaung Shwe for lunch at View Point Restaurant which features some of the best Shan food in the country. After lunch, visit 150 years old Shwe Yan Pyay monastery with its unusual oval shaped windows and impressive glass mosaics. Transfer to Heho airport for your flight back to Yangon.
Overnight in Yangon
Day 7: Yangon (B, L, -)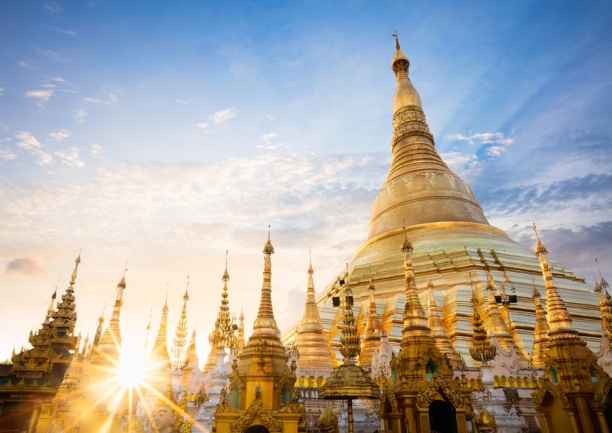 This morning, (We could introduce the Moek Hinn Gar or Ohn Noe Khauk Swe ( Myanma Rice Noodle in fish soup or Myanmar Noodle in Chicken and Coconut Soup ) before a visit to a local market with an experienced chef. Learn about the various spices, vegetables and other ingredients used in Burmese cuisine as you buy the ingredients for your personal cooking lesson at one of the famous Local Restaurants. Then, enjoy your own prepared Burmese lunch.This afternoon, take a short break at your hotel and then continue with a visit to Kyaukhtatgyi Pagoda, which houses a 70-meter reclining Buddha. Then, visit Shwedagon Pagoda, the most revered Buddhist temple in Myanmar. The 8-sided central stupa is 99 meters tall and gilded with gold leaf. It is surrounded by 64 smaller stupas. Enjoy breathtaking views of the golden stupa from this vantage point. From Shwedagon, continue the bustling Kandawgyi Park. Dine and enjoy local bands with the locals who come to enjoy the fresh air (Guest's own account). You will have good photos of illuminated Karaweik Royal Barge, Shwedagon Pagoda and surrounding lake.
Overnight in Yangon
Day 8: Yangon Departure (B, - , -)
Today is free at leisure to explore on your own. Then, you will be transferred to the airport for your departure flight.
 (Your hotel room is available until 12:00. If you are departing later, you can ask the hotel to keep the luggages. A late check-out is possible upon availability with some charge.)
What is included in the tour
accommodationinc. breakfast (B)
other meals as detailed in the itinerary (L=lunch, D=dinner)
local specialized English Speaking tour guide (other languages available on request)
all transfers
boat tours and air-conditioned car/van transportation as detailed in the itinerary
domestic flights as detailed in the itinerary, economy class (20 kg luggage per person)
sightseeing as detailed in the itinerary inc. entrance fees
What is NOT included in the tour
international flights from and to your country of origin
travel insurance
meals other than those explicitly mentioned, drinks, tips and personal expenses
visa fees