Detailed Itinerary
Day 1: Yangon – Bago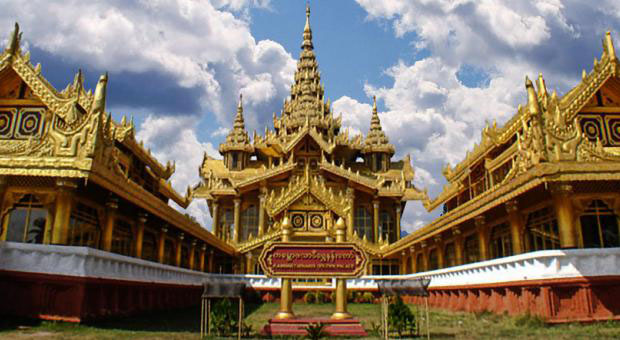 In the morning, our tour guide will pick you up at the hotel and then drive to Bago. Arrive at Bago in the morning, then visit Shwethalyaung Temple which houses a beautiful 55-meter long reclining Buddha. Take a short visit to a nearby Mon neighbourhood, a charming, quiet area typical of many rural neighbourhoods in Myanmar.
Continue to the Mon-style Shwemawdaw Pagoda, one of the most venerated in Myanmar and whose 114 meter spire is taller than the one at Shwedagon Pagoda. From here, we take a 15 minute walk to nearby Hinthar Gone Pagoda. The walk passes by many monasteries and nunneries and is a great opportunity to see the simple, peaceful lives of the monks and nuns.
At Hinthar Gone Pagoda there is an extravagant nat shrine with dozens of statues and offerings. Depending on the day, you may have the chance to witness a traditional nat dance. (Note: Schedule depends upon donor offering; can only be confirmed one day before arrival)
Next, visit Bago's strangest, and some would say creepiest, sight. Nearby Kanbawzathadi Palace, the Snake Monastery is a pilgrimage site to see the 9 meter, and reportedly century old, Burmese Python.  The monastery is devoted to a Buddhist abbot who was reborn as a python.
Overnight in Bago
Day 2: Bago – Kyaikhtio (B, - , -)
After breakfast, you will be heading to Golden Rock, a huge boulder covered by gold leaf and balancing on the edge of a cliff. Golden Rock is one of Myanmar's main pilgrimage sites. The pagoda here is said to hold a hair of the Buddha and Buddhist from across the country come here to pay homage. 
From the base-camp, Travel by local open-air truck to the junction camp which has a distance of 15 Minutes' walk to the final distance to Golden Rock (a porter will carry your bag). The uphill trek is along a paved trekking path and offers great views of the surrounding area. For an easier alternative, four porters can carry you uphill in a specially-made sedan chair allowing you to enjoy the views without all of the hard work! (Extra charge for sedan chair-client own account).
After taking a short time at the top of the mountain return to the base camp by open-air truck and walk to your hotel.
Overnight at base camp.
Day 3: Kyaikhtiyo – Hpa-an (B, - , -)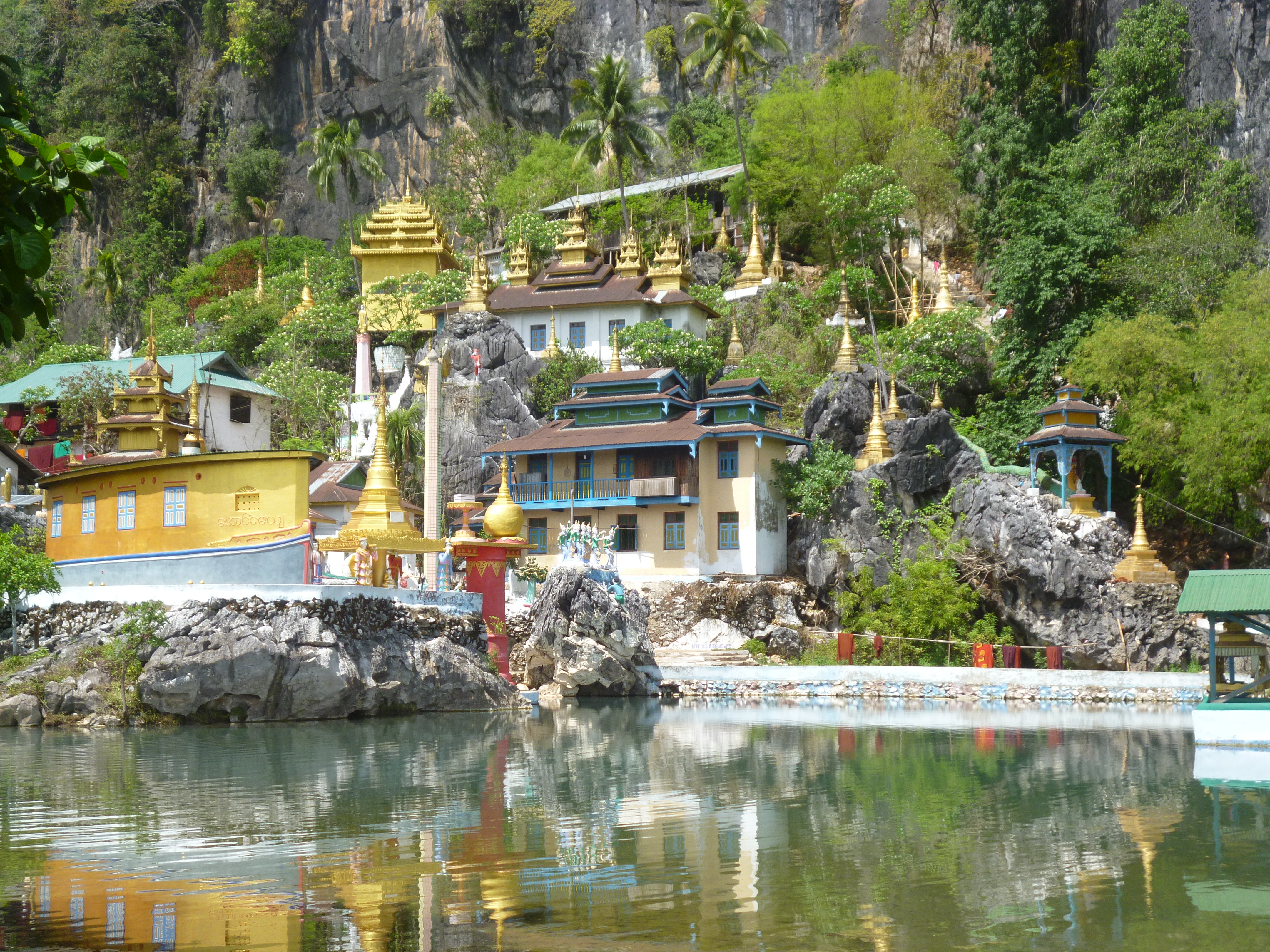 After breakfast, today you travel to Hpa-an. Enroute you pass the Bayin-Nyi cave with hot spring at the base of the hill that includes some very interesting Buddha statues at the front side. The more attractive part of the cave is at the back side with a long corridor full of stalactites. The Kayin state's capital is located on the banks of river Thanlwin.
This small and busy provincial town is favored by farmers traveling in carts or trishaws and selling their products. Stroll through the market and visit Shwe Yin Myaw Pagoda at the river banks.
Overnight stay in Hpa-an.
Day 4: Hpa-an (B, - , -)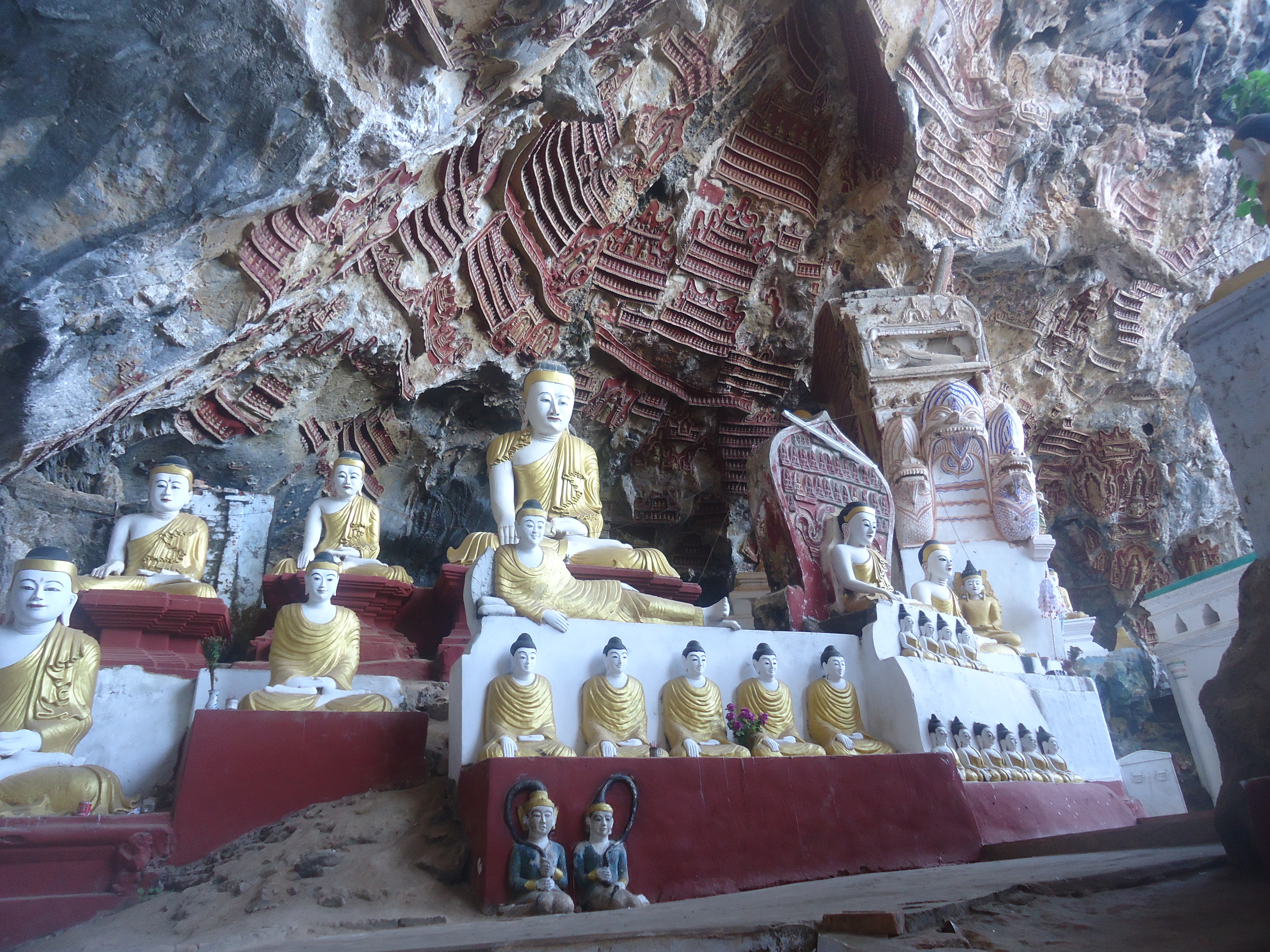 We will take you to the meeting point Hotel Gabana for biking starts at 08:00 am and start riding to Kan Thar yar Lake through local villages and beautiful mountains. Visit to Kyauk Ka Latt Pagoda 10 km south of Hpa an and continue to Lumbuni garden at the base of Mt. ZweKabin which is the landmark of Hpa an. We take a rest and photo stop at Lumbuni garden where the thousands of sitting buddha images and finally we will ride back to hpa an meeting point by mountain bike (11:30 pm approx).  Then you will be taken to the restaurant to have lunch and back to your hotel for a short rest. 
After that, stroll through the market before you continue your tour with a visit to Kaw Gun Cave also known as the 'Cave of the Ten Thousand Buddhas'. As you walk through the cave, you will see more than 2000 votive tablets of Lord Buddha and Mon inscriptions. Then visit huge famous Sadan Cave and YathePyan (hermit)cave andback to your hotel or take a stroll through this charming town.
Overnight in Hpa-an.
Day 5: Hpa-an – Mawlamyine (B, - , -)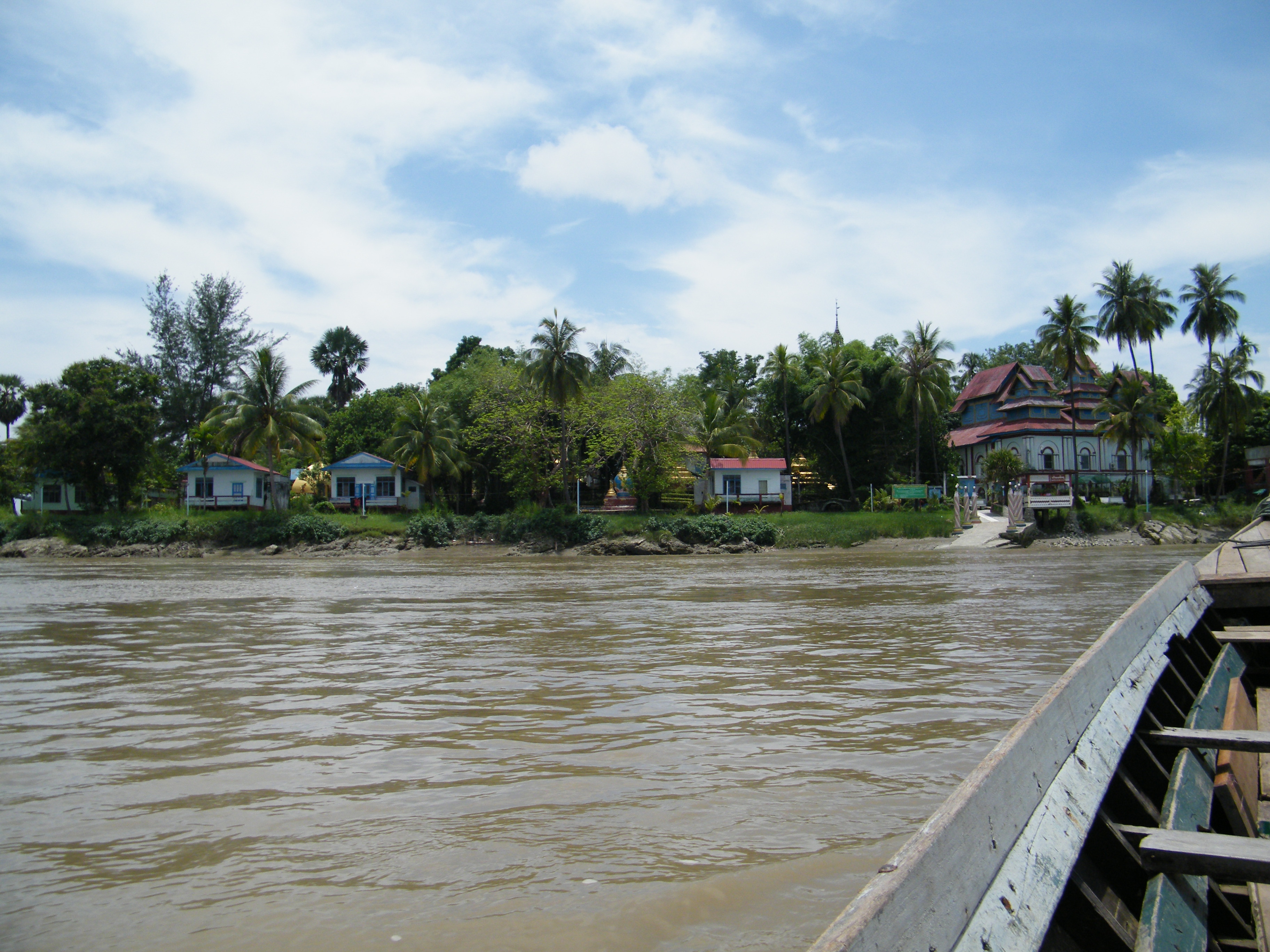 After breakfast, you will take a Than Lwin Princess Boat to Mawlamyine: the capital city of Mon State overlooking the river's scenic estuary and Gulf of Martaban. Enjoy the scenic journey and the charm of Thanlwin River along the boat ride.  You will arrive around the noon and check into your hotel in Mawlamying for a short rest and lunch. Then continue through the downtown streets, stopping to visit the colonial buildings, mosque, other city landmarks, Holy Family Cathedral which is built during the colonial era, this cathedral has a beautiful interior rarely seen by tourists. Nearby is Judson's Church, which was built in 1827 by Dr. Judson who translated the Bible into Burmese.  
Then you will head to the eastern mountains to visit KyaikThanlan Pagoda, the city's main landmark. Built in 875 AD, this temple enshrines the Tripitaka Buddhist manuscripts as well as a hair relic from the Buddha. The 40-meter-high stupa is located on a hill surrounded by 34 smaller Zediyan pagodas. From the top, guests can enjoy panoramic views over the city and harbor. It is also thought to be the site where Rudyard Kipling wrote his famous poem, Mandalay.
As today draws to a close, guests will proceed to U Zina Pagoda to enjoy the beautiful sunset.
Overnight in Mawlamyaing.
Day 6: Mawlamyine - Excursion to Shampoo and Bilu Islands ( B, - , -)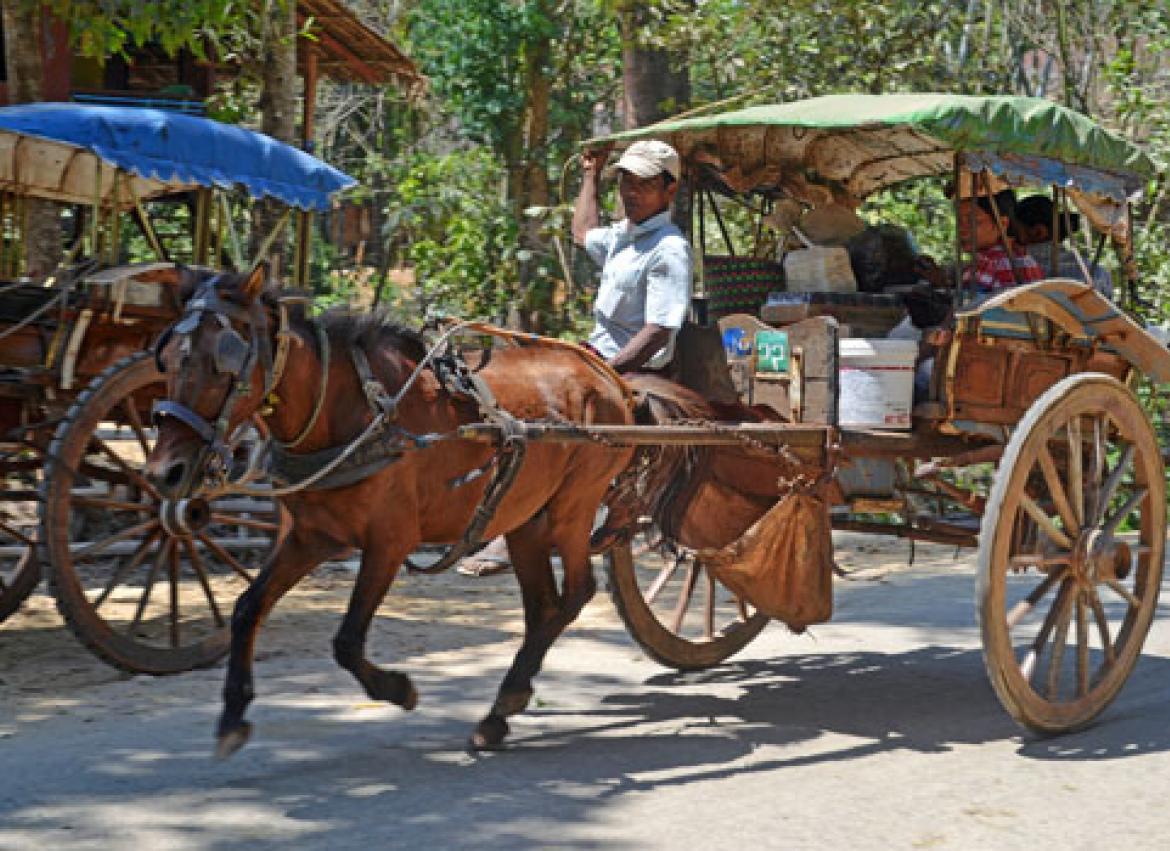 After breakfast, you will set off for a full day of excursions on the water.Take a short boat ride to Ta Kaw PonZa Lai, Shampoo Island. The island sits at the confluence of five rivers and is where the Mon Kings held ritualistic shampooing ceremonies during the local water festival, Thingyan. Spend time here exploring the monastery, nunnery and pagoda. Next, continue to BiluKyun, known as Ta Kaw SaMan in Mon, which means 'Orge Island'. You will tour 2-3 villages by horsecart to experience local life and culture. You may also observe the making of traditional handicrafts such as pipes, small toys, walking sticks and chalkboards. At midday, stop for lunch at a local restaurant (own account) on the island before continuing with your visit of the villages.Then transfer to the jetty and back by ferry to Mawlamyine.Upon arrival in Mawlamyine.This evening, stroll along Strand Road where colonial buildings overlook the river and dine at a local restaurant.
Overnight in Mawlamyine
Day 7:Mawlamyine  – Yangon  (B, - , - )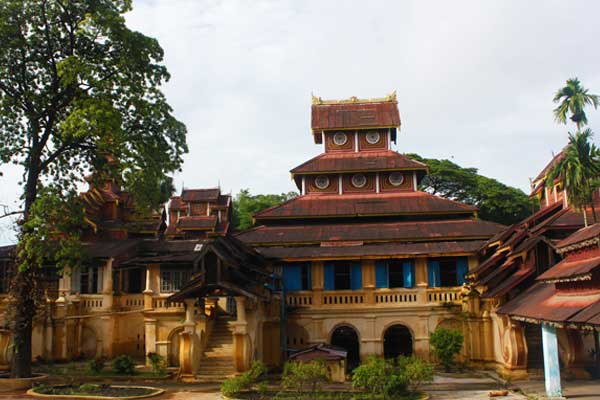 Start today with a morning visit to the bustling colorful Zeigyi (central market). Wander through the dozens of stalls where local vendors come to buy and sell their wares.Next, you will visit the ancient Queen Sein Don Monastery (locally known as YadaBonmyint Monastery). This monastery is more as 100 years-old and is famous for the intricate woodcarving and Burmese crafts it houses. It was founded by Queen Sein Tone who had to flee Mandalay at the time that Myanmar's last monarch, King Thibaw Min, took power. She became home sick and asked the local carpenters to build a monastery in the style of her former palace. Afterwards, you will drive back to Yangon.Depending on your arrival time in Yangon, you will transfer to hotels.
*** End of services ***
What is included in the tour
accommodation inc. breakfast (B)
meals as mentioned in the itinerary
local specialized tour guide (English-speaking, other languages available on request)
all transfers
•air-conditioned car/van transportation as detailed in the itinerary
sightseeing as detailed in the itinerary inc. entrance fees
What is NOT included in the tour
international& domestic flights from and to your country of origin
travel insurance
meals other than those explicitly mentioned, drinks, tips and personal expenses
visa fees